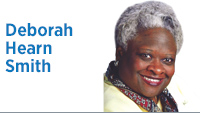 Earlier this month, as we were enjoying our time in northern Europe, I found myself taking a picture of my 8-year-old grandson in front of the Berlin Wall. Of course, this was ancient history to him. My husband explained it was his assignment as a member of the Army to guard the wall.
As we explained the significance of the wall, the expression on my grandson's face became very serious. He had many questions. Because he has traveled with us internationally, he is keenly aware of different cultures and likes to explore the world around him. The fact that walls are used to separate is—in his young mind—unimaginable.
The current issue about the wall with Mexico suddenly became very real to him. Mexico is his favorite place, and the thought of his friends being subject to a wall was terrifying.
What followed was a discussion on the purposes and differences of walls and bridges. It was visible even to a child that a wall symbolized the separation of people, mistrust and bigotry. Walls separate and lead to dehumanizing fellow humans. It's estimated it will take Berlin 50 years after the 1989 fall of the Berlin Wall to fully recover.
We next had a discussion on the nature and purpose of bridges. Because we were cruising the Baltic Sea, we saw numerous examples of extraordinary bridges. These bridges served to unite. We saw spectacular bridges and marveled at their design. I recalled a time long past when, from my husband's childhood home in Buffalo, New York, we crossed the bridge to Canada weekly to shop for English items. On these trips, we always saw Canadians going into the United States for the same reason. A simple bridge linking us together.
Walls and bridges can be physical, emotional or invisible. But whatever the form, walls have but one purpose—to separate. As humans inhabiting the same planet, walls are never a sign of progress. Look at all the walls of the past. Not one is continuing to serve its original purpose. Over time, the human spirit prevails and we are brought together. Individuals also erect walls around themselves and their worlds to keep others out. Often, we erect these walls to protect us from pain but this lessens our ability to empathize with our fellow humans.
Now back to my 8-year-old. The real lesson is how we encourage and teach bridge building.
I have often said to be careful: Children are watching and listening. Let's change the conversation to building bridges of friendship and hope that all can cross freely. Let's understand that education is the greatest bridge of all.
While we were in Oslo, Norway, it was interesting to learn that part of the school curriculum was religions of the world. The Norwegians put a high priority on a society that is accepting and tolerant, so they have a bridge to support that value.
What bridges are we building with our children today? They will need to live and thrive in a global society. I have been thrilled with IPS School 91, where kindness is practiced daily. Let's use the children to lead us all across the bridge of kindness.
We can abandon the values of building a peaceful global society to our own demise.•
Click here for more Forefront columns.
__________
Smith is former CEO of the Girl Scouts of Central Indiana. Send comments toibjedit@ibj.com.
Please enable JavaScript to view this content.