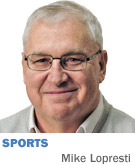 The Colts training camp is rolling, but just who are these guys?
Not the players. The coaches.
Lots of newcomers out there with whistles and clipboards. So here's a quiz to figure them out.
Who, as a quarterback, faced deficits of 31-0 in college and 35-3 in the NFL playoffs—and won both games?
OK, we start with an easy one. It was new Head Coach Frank Reich's proverbial claim to fame for a lot of years that he quarterbacked the biggest college and NFL comebacks in history, with Maryland and Buffalo. But Michigan State came along in 2006 to rally from 35 points down to beat Northwestern and ruin that.
Who was a defensive coordinator for a college team that was ranked No. 1 for the first time in 47 years?
Matt Eberflus, who was there for Missouri in 2007. Now he's the new Colts defensive coordinator.
Who was coaching one season at Division II Indiana University of Pennsylvania, and the next with the Kansas City Chiefs?
Nick Sirianni. If the Colts offense moves that quickly this season, he'll be just fine as the new coordinator.
Who's 10 years younger than kicker Adam Vinatieri?
Bubba Ventrone, who'll be coaching him as the special teams coordinator. No word whether he will call Vinatieri Sir.
Who started 43 consecutive games as a college quarterback?
Assistant Quarterbacks Coach Marcus Brady, at Cal State Northridge, playing long enough to throw 109 touchdown passes. You might recall that the guy he's helping coach now—Andrew something—hasn't started any in a while.
Who might be the brains of the outfit, with an undergraduate law major from Amherst College, which was named the second-best liberal arts school in the nation this year?
Dave Borgonzi. Officially, his major was law, jurisprudence and social thought. Not sure if he will need all three to coach the linebackers.
Who grew up near the site of the first shots of the Revolutionary War?
Offensive Line Coach Dave DeGuglielmo. He's a Lexington, Massachusetts, guy.
Who once made two free throws in the final minute to help his team win the Ohio high school state basketball championship?
Cornerbacks Coach Jonathan Gannon. He wasn't a bad football player at St. Ignatius, either.
Who coached on Indiana University's only winning season in the past 23 years?
Offensive Line Coach Bobby Johnson, who had the same job in Bloomington in 2005, when the Hoosiers went 7-6. Not many men out there can say they coached for a winning IU football team.
Who is married to a professional singer?
Director of Sports Performance Rusty Jones. Wife Sharon frequently performed the national anthem for Bills games when her husband worked for Buffalo. At one point, the Bills were 22-3 in her anthem games. She had a better record in Buffalo than Marv Levy.
Who went 59-3 in his college career?
Tight Ends Coach Tom Manning. That's what happens when you go to Division III dynasty Mount Union.
Who has spent most of his career working with hockey players?
Doug McKenney, assistant strength and conditioning coach, who has hung around a lot of Penguins (Pittsburgh), Whalers (Hartford) and Sabres (Buffalo).
Who was an infant when he lost his father—a first-round draft pick by the Miami Dolphins—to an auto accident?
Defensive Quality Control Coach David Overstreet II. Father David starred at Oklahoma.
Who made the business school's dean's list and was named the top player on his college's scout team, starting to sound a little like "Rudy"?
Wide Receivers Coach Kevin Patullo, at South Florida
Who went from a walk-on to starting linebacker at Arizona State?
Defensive Line Coach Mike Phair.
Who won the Nebraska state high school high-jump championship by going 6-7?
Running Backs Coach Tom Rathman. When he was plowing over tacklers for Nebraska and the San Francisco 49ers, he didn't much remind you of a high jumper.
Who was hired to scout for Bill Belichick in New England—twice?
Franky Ross, now the Colts special teams assistant.
Who spent the first six years of his coaching career in high schools?
Offensive Quality Control Coach Gunnard Twyner. And several of those seasons were as a volunteer.
Who has worked more seasons with the Colts than anyone else on the staff?
Safeties Coach Alan Williams. This is his first season of chapter 2 in Indianapolis. For chapter 1, he coached the Colts secondary from 2002-2011.
Bottom line: The Colts face several familiar questions. And have several new faces to help answer them.•
__________
Lopresti is a lifelong resident of Richmond and a graduate of Ball State University. He was a columnist for USA Today and Gannett newspapers for 31 years; he covered 34 Final Fours, 30 Super Bowls, 32 World Series and 16 Olympics. His column appears weekly. He can be reached at mjl5853@aol.com.
Please enable JavaScript to view this content.