Zionsville-based Boosterville Inc.—which uses an app to connect cause-driven shoppers to businesses willing to donate a portion of sales to charity—has been acquired by Princeton, New Jersey-based Beyond, which plans to rebrand the program.
Financial terms of the deal, which closed in June, were not disclosed.
Boosterville co-founders Pam and Tom Cooper will remain with Beyond, which has about 500 employees. 
The husband-and-wife duo—well known in local business and tech circles—is relocating to Robinson, Illinois, to be nearer to family, Pam Cooper told IBJ.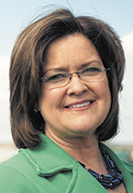 Cooper
In 2013, the Coopers founded Boosterville as "a better way to fundraise than selling wrapping paper, cookie dough and other trinkets," Pam Cooper said. They built a platform to partner school fundraising with supporting community businesses. By fall of 2017, they had three full-time and two part-time employees.
Tom Cooper was founding chief technology officer of ChaCha Search Inc. and hc1.com before co-founding Boosterville. Pam Cooper founded Fiberxperts Inc., a carpet cleaning franchise that she operated for 20-plus years.
Beyond, a financial technology and transactions company offering a suite of business tools and services including payment processing, employee management (payroll, HR, compliance), lending, and point-of-sale, will maintain a small central Indiana presence which Cooper thinks could grow.
"Beyond is growing and they'll be adding sales people and that will likely happen here too," she told IBJ.
The Boosterville platform will be rebranded to Chip-In and utilized by not-for-profits as a fundraising tool to facilitate an increase in digital donations, Beyond officials said.
"We believe the acquisition of Boosterville will be instrumental in our company's continued growth," Beyond CEO Robert Carr said in a statement. "Our new Chip-In program empowers local businesses to support non-profit groups in their community while also ensuring that support makes financial sense. In turn, non-profits play a key role in building a flourishing local business community by reciprocating and supporting those businesses with their collective buying power. As buyers continue to be more intentional about where they shop, the Chip-In app makes it easy to find businesses that donate to causes they care about."
Cooper said selling to Beyond wasn't a difficult decision because "we have very similar philosophies." Beyond has a strong charitable component, funneling a portion of its profits into helping children that either are living in foster homes or whose parents are incarcerated to have access to a post-secondary education.
Officials for Beyond and Boosterville began talking about an acquisition in January.
"This immediately gives us resources," Cooper said. "It gives us a national salesforce for our technology. And this helps Beyond because our platform provides a feature they need. It's a differentiator."
Pam Cooper conceived the idea for Boosterville after years of fielding donation and sponsorship requests at her carpet cleaning business in Carmel. She donated gift certificates to silent auctions and sponsored her children's soccer team.
"I did all of those things knowing I was just being a good community member," Cooper said. "I was probably not going to get any business out of it."
At the same time, she helped her children fundraise for their schools by selling items from various catalogs.
"Everybody who participates in that hates it. Nobody wants that stuff," Cooper said. "Merchants hate it because they're completely cut out of that—those dollars are just sucked right out of the community and gone."
She figured there had to be a better way. So she started thinking about how to use technology to solve the problem, and for more than four years, she worked to create a platform with her husband.
Cooper gave a nod to zWorks, a Zionsville co-working space.
"They supported us and gave us what we needed to get this off the ground," Cooper said.
Please enable JavaScript to view this content.