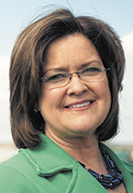 Cooper
For years, Pam Cooper fielded donation and sponsorship requests at her carpet cleaning business in Carmel. She donated gift certificates to silent auctions and sponsored her kid's soccer team.

"I did all of those things knowing I was just being a good community member," Cooper said. "I was probably not going to get any business out of it."

At the same time, she helped her children fundraise for their schools by selling items from various catalogs.

"Everybody who participates in that hates it. Nobody wants that stuff," Cooper said. "Merchants hate it because they're completely cut out of that—those dollars are just sucked right out of the community and gone."

She knew there had to be a better way. She started thinking about how to use technology to solve the problem, and for more than four years, she worked to create a platform with her husband, Tom.

About a year ago, the couple launched Boosterville Inc., which uses an app to connect cause-driven shoppers to businesses willing to donate a portion of sales to a charity the consumer chooses.

The platform, which they ramped up this summer after receiving $830,000 in venture capital, acts as a marketing tool for retailers and a fundraising tool for not-for-profits. It allows customers to participate without having to do anything differently when making purchases. Shoppers register their credit and/or debit cards through the app, select organizations to support, and buy products as they normally would.

"You don't have to say, 'This is a Boosterville transaction' or press a special button," Cooper said.

So far, she said, the company has seen about $30,000 in qualified transactions, which has resulted in a few thousand dollars donated to charities.

"A little bit of what we're trying to do is just retraining people," Cooper said. "It does make a difference where you spend your dollars."

And consumers, especially millennials, are increasingly paying attention to where their dollars go. According to a Nielsen survey, 66 percent of consumers say they prefer to spend money at businesses that give back, and almost 50 percent say they're willing to pay extra to do so.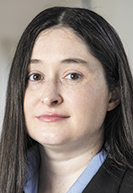 Colby
"I think it's become easier for people to do research on the companies they're thinking about buying from," said Helen Colby, assistant professor of marketing for the Indiana University Kelley School of Business in Indianapolis. Millennials "spend more time thinking about where they're getting their products from."

Boosterville is currently housed in a 1,200-square-foot former PNC Bank branch on the corner of Main and Sycamore streets in downtown Zionsville. The town offered the space at no cost in September 2016 as a way to help Boosterville grow out of the local co-working space known as zWorks.

Cooper said the company has received a total of $1 million in venture capital, including the $830,000 from the seed-funding round this year, and most has been spent on Visa integration into the platform and other technology work.

Greg Willman, co-founder and CEO of 316 Investments, said the firm contributed $200,000 because the concept is exactly what the investment group wished it had access to years ago when it operated Qdoba restaurants, which were regularly asked to donate to various groups.

"It's a very flexible, very customizable approach," Willman said. "The marketing aspects of the program for the retailer makes sense. The nonprofits have embraced it. And why wouldn't you? We see this as a big opportunity."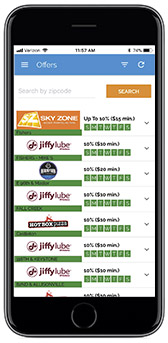 The Boosterville app shows shoppers what donation offers are available from participating businesses. (Screenshot illustration/Lindsey Erdody and Audrey Pelsor)
Making it easy

Before moving to zWorks in April 2015, the Coopers went through two tech accelerators—one in Memphis and the other in St. Louis—to experiment with how to structure the business.

Tom Cooper, who serves as Boosterville's chief technology officer, had experience on the tech side from roles with hc1.com and ChaCha Search Inc., and Pam Cooper knew the merchant frustrations after owning and operating Fiberxperts in Carmel for more than 20 years.

Here's the way Boosterville works: Consumers create an account through the Boosterville app, usually after being invited by an organization they're already involved with, such as their child's school. Users can select up to four not-for-profits they want their purchases to benefit and input their Visa credit and/or debit card information.

The app works only with Visa cards (including reloadable cards) right now, because other credit card networks don't offer the integration technology needed, Cooper said.

Users see a list of participating businesses and their donation offers—many list a 10 percent donation with a minimum purchase amount. When customers shop in those retailers' brick-and-mortar or online stores and pay with registered cards, the donation is automatic.

Colby said the program benefits participating businesses because it could improve their reputations within the community as well as drive more traffic their way.

"Not only [are you] getting free advertising, but you're more likely to get someone to stop by who might not otherwise," Colby said.

She said the danger for retailers is that the program won't generate new or additional sales—or the cost to participate is too high.

Boosterville doesn't charge businesses or not-for-profits a fee to join, but it does take a cut of each transaction. Merchants are charged 50 cents per qualified purchase. Not-for-profits receive 93 percent of the donation; Boosterville keeps 7 percent.

Businesses can also customize their offers on the app.



For example, Chick-fil-A gives 10 percent of a $10 minimum purchase to the charity of a registered customer's choice. Cooper said the restaurant's average transaction is $8 to $9, so by setting the minimum at $10, the restaurant encourages customers to spend a little more and the donation essentially pays for itself.

Colby said one other risk for retailers is that observers might disapprove of some of the not-for-profits receiving donations—and project that onto the retailer, even though individual customers actually choose the charities.

"That kind of nuance gets lost in the Twitter storm," Colby said. "I wouldn't say it's a huge risk, but it's a risk."

Willman said businesses do have some control in the Boosterville app over what not-for-profits receive their donations, so that potential conflict could be eliminated.

Focused on schools

Nearly 100 business locations (some retailers have multiple locations) list offers in the platform, and about 60,000 not-for-profits can currently receive donations. But less than 100 charities are actively encouraging members or volunteers to take advantage of Boosterville. More than 1,000 customers are registered with the app.

Cooper said any not-for-profit can be included in the platform, but Boosterville's "sweet spot" is schools and school-related groups, such as marching bands, choirs and parent organizations. School fundraisers are a $4 billion industry annually.

"We're really looking at, 'Let's do school fundraising a different way,'" she said.

Boosterville also has a patent pending on technology that allows community organizations to match donations. For example, The Community Foundation of Boone County offered a $1,000 match to each of the county's three school districts. Proceeds from all purchases benefiting a Boone County school-related organization that are made at a Boone County business are matched by the grant.

Groups can also use a "Text for Good" program through Boosterville that allows community members to make quick donations via text rather than by making a purchase at a participating business.

Amy Connelly, president of Zionsville Showchoirs Inc., said her group started using the platform in the spring because "it was presented as an easy way to fundraise, and that's what it's proven to be."

"We've used a lot of different fundraising things," Connelly said. "This is by far the easiest."

But Boosterville is only complementing the group's other fundraising programs for now. The show choirs will still conduct two major fundraising events annually, plus monthly spirit night fundraisers at restaurants.

"I think it's too soon to say whether it would replace some of our other fundraisers," Connelly said. "I think it's a good supplement."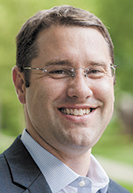 Pidgeon
Ben Pidgeon, executive director of VisionTech Angels, which invested $200,000 in the platform, doesn't think Boosterville needs to eliminate those types of fundraisers in order to be successful.

"I always kind of thought Boosterville would complement those other things, not replace them," Pidgeon said. "You're always going to have these pancake breakfasts."

Not alone

Connecting cause-driven shoppers to businesses willing to donate a portion of their sales to charity isn't new, but many platforms are focused on online shopping.

Good Shop, which launched in 2006, connects customers to a variety of online stores willing to donate a portion of the transaction to charity. And to further motivate shoppers, the website provides coupons to the retailers.

The amount donated can vary based on the merchant, but customers select which not-for-profit the money would benefit. A recent featured deal included free shipping and $6 off a $30 purchase from Dress Lily. The purchase would generate a 5 percent donation.

iGive is connected to more than 1,700 stores that make donations to causes chosen by shoppers, with an average donation of 3 percent of a transaction.

One of the most well-known such platforms is AmazonSmile, which gives 0.5 percent of every purchase to the consumer's selected charity.

Cooper said Boosterville is similar to AmazonSmile, but it benefits local businesses and the percentage donated to not-for-profits is often much higher.

Most current offers on the Boosterville app advertise a 10 percent contribution. At the AmazonSmile rate, $10,000 in sales would be necessary before an organization received $50.

"So, really, it's more like Amazon is using that nonprofit to advertise for them and paying a tiny little commission," Cooper said.

Pidgeon said he's not worried about other local merchant competitors because of the technology work necessary to launch a competing service.

"I think it would be challenging for somebody to catch up to Boosterville and deliver a similar product," he said.

And Boosterville is set to keep growing. Cooper said she expects to double her staff of three full-timers and two part-timers in 12 to 18 months.

The goal is to be nationwide in terms of businesses participating and not-for-profits promoting it as quickly as possible because the technology is already prepared to handle the traffic.

"Nobody ever grows as fast as they'd like," Cooper said.•