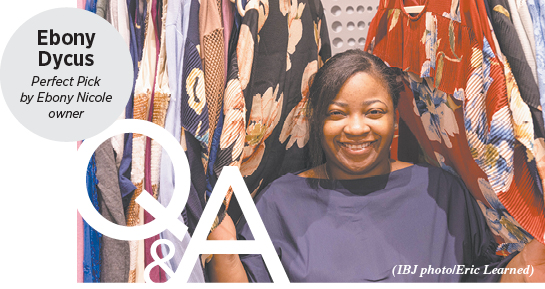 Ebony Dycus, owner of women's boutique Perfect Pick by Ebony Nicole, has a lot of experience in overcoming challenges.
Dycus, 27, was 4 years old when she was taken from her mother and sent to live with her father and stepmother. She entered the foster care system at age 12, and for the next six years, lived in 10 Indianapolis-area foster homes plus a residential care facility.
After high school, she attended Indiana State University before returning to Indianapolis to take a job as a data specialist for not-for-profit Child Advocates Inc.
During a trip to Los Angeles, Dycus was inspired by the successful boutiques she saw there. She opened her first boutique, at Castleton Square Mall, in May 2017, and opened a store at Greenwood Park Mall in May. A third store she opened in Bloomington has closed.
What was the most difficult part of being a foster child?
Not having as much as other kids had. You know it's always going to end. As someone who moved around a lot, you just know that the home is not going to be your forever home.
Even though it was rough, did the experience teach you anything helpful?
Perseverance, no matter what. Just to persevere through everything.
Who helped you along the way?
I had an independent-living worker who stayed with me all the way from high school until I left college.
Who was that through?
The Villages. And then they set me up with the CEO of The Villages, Sharon Pierce. She set me up with—I called them my angels—some of her friends, to help because I didn't have anybody while in college.
These angels—how did they help? 
They sent me care packages. They emailed me all the time to check up on me, came to visit, helped buy stuff for my dorm, sent me a gift card every blue moon. And then I was hooked up with a family my freshman year in college. They live out in Fairland, close to Shelbyville. They actually adopted me when I was 23. 
What gave you the courage to open a retail shop?
My parents make these natural soaps and body butter and natural deodorant. They would do craft shows. I would go with them to that and I said, "I could sell at the craft shows. I could sell clothes there." It worked out really well. It got my name out there. I did it for eight months, just out of my car, going to different shows.
What inspired you to open a physical store?
My friend, she works for Simon [Property Group] and she was like, "You could probably do it." She gave me an extra boost. We've been friends since freshman year of high school.
So you started out with a three-month lease in Castleton, then signed a six-month lease for a different store space within the mall. How did that work out?
That [first] store was damaged and it was dark. They had LED lights, so it wasn't really the brightest store, and the ceiling and the floor was black. It was quite interesting. But I made it work. My first month there, I sold over $25,000 worth of clothes. Granted, I still had to pay people. It still was a good month.
Is there anything else you want to mention?
I give 10 percent of sales to different foster youth agencies around the city.•
Please enable JavaScript to view this content.