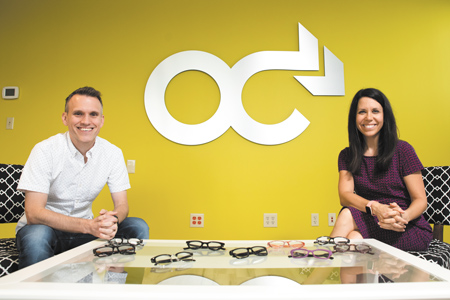 Consider the humble readers: those low-priced nonprescription eyeglasses for the 40-and-up crowd whose near vision has grown fuzzy.
Flashy and exciting they're not—and yet reading glasses are at the core of a business transformation that has brought Greenwood-based One Click Ventures big success.
The online retailer, founded by Angie and Randy Stocklin in 2005, sells reading glasses, sunglasses and prescription glasses through its three e-commerce websites:readers.com, sunglasswarehouse.com and felixandiris.com.
Most of the company's current business focus—and the majority of its revenue—comes from readers.
"Readers.com is really our stand-out brand," said Angie Stocklin, who serves as the company's chief operating officer.
It's not the direction One Click originally planned. Initially, Angie Stocklin said, the company envisioned selling 15 or 20 product lines—eyewear, scarves, purses and the like—through a series of consumer-focused websites.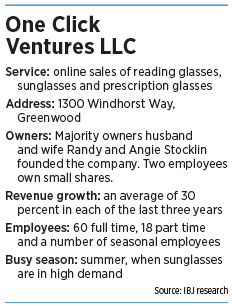 But in 2013, the company found it difficult to focus on so many items. So it divested six of its nine websites—and about 30 percent of its revenue—to become an eyewear-only company.
According to previously published reports, One Click had revenue of $2 million in 2009. That grew to $5.3 million in 2011 and $8.5 million in 2013.
The company no longer discloses revenue, but says it has grown an average of 30 percent each of the past three years.
And the company sees plenty of room for continued growth.
"More and more people are getting comfortable making purchases online," said Randy Stocklin, the company's CEO.
According to industry trade group Vision Council, most U.S. consumers still purchase eyewear at brick-and-mortar stores—but the balance is starting to shift.
In 2017, Vision Council says, 4.5 million pairs of readers—8.7 percent of all readers sold that year—were purchased online.
Those figures have grown each year since 2011, when consumers purchased 2.6 million pairs of readers—or 6 percent—online.
The larger picture: In 2017, U.S. consumers spent $32.5 billion on prescription glasses, readers, sunglasses and contact lenses. Of that, $1.97 billion was spent online.
That means most consumers are still buying readers at chain retailers—and One Click sees an opportunity to grab some of that business.
"The Walgreens and CVSes of the world—that's our competition right now," Angie Stocklin said.
It's not an easy nut to crack—but it can be done, retail experts say.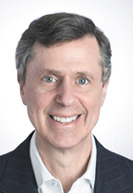 Kestenbaum
Richard Kestenbaum, a cofounder and partner at New York City-based Triangle Capital LLC, predicted the prescription eyewear business will continue to move online as technology—specifically, the availability of online eye exams—becomes more advanced.
That dynamic doesn't apply to reading glasses, he said.
People who wear prescription glasses generally wear them all the time, Kesten-baum said, so they identify as eyeglass wearers and care more about the style and look of the eyewear.
In contrast, people who wear readers generally take them on and off throughout the day.
They often buy several pairs to keep them handy and don't become attached to any particular pair.
"That's a commodity product as compared to prescription glasses, which are bespoke," Kestenbaum said. "It's very hard to make money when a product's a commodity. Shoppers shop on price."
Another challenge: getting consumers to buy something online that they can easily purchase at many kinds of brick-and-mortar stores.
"Almost everybody needs readers, but they're almost ubiquitous. So the question is, 'Why do I buy them online?'" said Mara Devitt, a senior partner at Chicago-based retail consulting firm McMillan Doolittle. "You have to have a differentiated reason for folks to buy your product."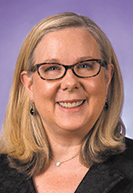 Devitt
Those reasons might include the promise of better service, higher quality, a larger selection or lower prices than customers can find in stores, Devitt said.
The most successful online retailers have found creative ways to communicate this message and gain consumers' attention, Devitt said.
One example: Warby Parker, a prescription eyewear retailer founded in 2010 as an online-only business. The company has since opened some brick-and-mortar stores, including one that opened this year at the Fashion Mall at Keystone.
In its early days, Devitt said, Warby Parker drove around the country in a bus—a kind of mobile showroom—to introduce itself to customers.
"It created a lot of buzz," Devitt said.
And Luggage retailer Away, started by two former Warby Parker executives, used the old-school tactic of direct mail to reach potential customers.
One Click has used some of these strategies to get its message out.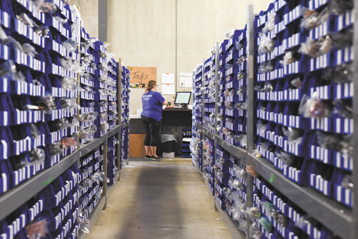 (IBJ photo/Eric Learned)
The company's website touts its support of Timmy Global Health, an Indianapolis-based not-for-profit that offers international medical programs to those in need.
One Click donates reading glasses to the communities Timmy Global Health serves.
In 2016, One Click also began experimenting with traditional television, print and radio advertising.
The company has had good success with its Readers.com TV ads, Angie Stocklin said.
That's in part because the target audience—those age 40 and up—is in a demographic that still watches programming on a TV as opposed to a mobile device.
The ads emphasize Readers.com's extensive selection—hundreds of frame choices as well as lens strengths in a wider range than available in most stores—and its customer service.
The message won over Matt Rogers, director of marketing and agency services at BlueSky Technology Partners, a Noblesville-based e-commerce consulting company and digital agency.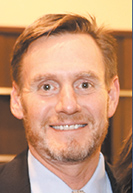 Rogers
Rogers said he saw a Readers.com advertisement on television and was impressed by the range of styles the company promised.
"I wasn't happy with the models that you see in the grocery store," he said. "They look like something my mom or dad would wear."
He bought a couple of pairs in different styles, but didn't make the connection right away that the company was locally based.
One Click is in the middle of a transition that will allow it to expand its selection even further.
For the past year and a half, the retailer has worked to reorganize its supply chain. It's now large enough to deal directly with its manufacturers rather than relying on a third-party supplier.
That means One Click has more control over the price, selection and quality of its products—including popular but hard-to-find multifocal readers and bifocal readers, Angie Stocklin said. The company can also now design its own frame styles by working directly with the factories that make them.
Last fall, several One Click representatives traveled to Hong Kong, Taiwan and China to meet eyewear manufacturers directly.
"By the end of the year, we should be direct-sourcing 44 percent of our goods," Angie Stocklin said.
The company is continually evaluating its processes and procedures, both Stocklins said, to see what might need to be changed as the company expands.
Keeping up with growth is a top priority and "a constant challenge," Randy Stocklin said.•
Please enable JavaScript to view this content.