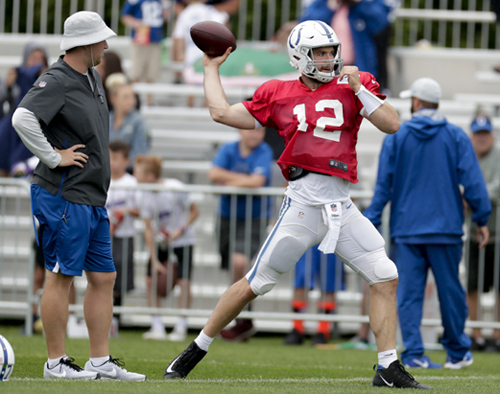 Quarterback Andrew Luck spent two straight offseasons contemplating how it would feel to play football again.
He'll find out Thursday night.
Coach Frank Reich announced Tuesday that Luck would start and could play most of the first quarter in the Indianapolis Colts' preseason opener at Seattle.
"I'll be excited and a little nervous," Luck acknowledged after practice. "There were one or two moments where I wondered if, 'Am I ever going to be able to do this again?'"
He wasn't the only one asking that question during a nearly 600-day wait between starts. And he's not the only one who will be nervous lining up against the Seahawks' traditionally strong defense.
Much has changed since Luck performed in a televised game.
There's a new general manager and a new coach in town. There's been another new offense installed and Luck is still trying to learn everybody's names. Even the once formidable offense has undergone a major revamp.
Rookie Quenton Nelson and free agent signee Matt Slauson have moved in as the new starting guards. Tight Eric Ebron and receiver Ryan Grant are promising new targets for Luck, who will be handing off to second-year running back Marlon Mack for the first time in a game Thursday.
Luck can't wait to see how it all works together—even if it takes an entire preseason to work out the kinks.
"Every day I feel a little bit better about my technique in those team drills," he said. "And also I feel better, I feel stronger, I feel more fit, I feel like my arm has a little more in it and a little more in it and a little more in it. I'm certainly feeling more comfortable in the offense."
That's all good news for Colts fans who cringed at the notion their bright, young star may never return to his pre-injury form following surgery.
But after looking understandably rusty at his first training camp practice, Luck has shown indications he is getting back to his old ways.
His passes seem crisper, he's more in sync with his receivers and he's been able to complete passes consistently through smaller and smaller windows. His final throw Sunday—a 45-yarder on the run across his body for a touchdown to T.Y. Hilton in a two-minute drill—reminded Reich just how close Luck is to being completely healthy.
"We're doing end of half situation or end of game situation and he's just bailing out of there, 100 mph and that's a tough throw to kind of turn and make that," Reich said. "That's definitely checking something off (the list)."
Luck figures It's about time.
He initially hurt the right shoulder in September 2015 against Tennessee, missed the next two games, then returned to make four more starts before sustaining a season-ending lacerated kidney.
Instead of opting for surgery immediately, Luck decided to rest the shoulder. When the pain persisted, he played through it—making 15 starts and turning in arguably his best season as a pro in 2016 before undergoing surgery.
Indy expected Luck to return last season, but he didn't start throwing till early October and was shut down two weeks later after complaining of more pain. He went on injured reserve in November and didn't resume throwing footballs again until May.
Luck ramped up his activity during summer workouts in California and finally began practicing with the starting offense for the first time in 18 months after arriving at training camp—albeit on  a revised schedule that mimics his regular-season routine.
And now, finally,  Luck appears ready to take the next big step in his recovery, even if he only plays a couple of series.
"Part of playing in a game is being able to go through a hurdle when something happens and something doesn't go right, and surviving in a sense and being able to check off that box in your mind," he said.
The question, of course, is how the shoulder will react under game conditions, especially when he takes his first hit.
It's an answer everyone, including Luck, wants to know. But for now, Luck will be content getting acclimated to playing on the big stage again.
"How will warmups feel? What does that feel like? How do you feel when you turn the ball over?" Luck said. "What happens on third-and-long and it's loud and the headset goes out? What do you call? OK, boom, did we do that well? How would you change that? Checking those boxes off."
Please enable JavaScript to view this content.