The Lexington Car Co. that occupied a four-story building at Meridian and 12th streets downtown quit producing its luxury
automobiles shortly before the start of the Great Depression.
But remnants of the company's Indianapolis
presence, where cars were shipped for sale from a manufacturing plant in Connersville, live on through an eco-friendly renovation
undertaken by August Mack Environmental Inc.
The Indianapolis-based environmental consulting firm moved to the
historic building in May 2008 from Castleton and occupies 11,000 square feet on the fourth floor.
Wood panels
recycled from original Lexington work stations were used to construct a reception desk and helped August Mack achieve LEED,
or leadership in energy and environmental design, certification from the U.S. Green Building Council.
The Washington,
D.C.-based council administers the LEED program and certifies projects, depending upon the extent of "greenness."
Participants can achieve certified, silver, gold or platinum status by building upon, or renovating, a sustainable site and
choosing renewable materials and resources, among other requirements.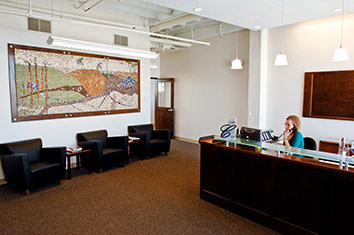 The reception desk was made from wooden
panels used in work stations when the downtown building housed a sales office for the now-defunct Lexington
car. (IBJ Photo/Robin Jerstad)
August Mack earned gold certification and is one of just 10
companies in the metropolitan area that has received any level of LEED accreditation, according to the
green building council's Web site. In addition, the company's project is the first in Indianapolis
to receive a gold rating in the "commercial interiors" category.
Perhaps more
impressive is that August Mack pursued the effort to "green" its space and made the additional investment
even though the firm does not own the building.
"We practice in this area and consult on sustainability,"
said Geoff Glanders, August Mack's co-founder and president. "We thought, 'You know, we have this opportunity.
Let's walk the walk instead of talking about it.'"
Glanders
Indianapolis-based Shiel Sexton Co.
Inc. owns August Mack's building, last occupied by office equipment distributor VanAusdall & Farrar Inc. The construction
contractor invested $10 million to renovate The Lexington, named after the car company.
The building is fully
leased.
Most noticeable among August Mack's environmentally friendly efforts is the natural sunlight flooding
the space through a row of new windows flanking its space. Low-energy lighting also helped the firm cut energy consumption.
A new heating, ventilation and cooling system was installed as well.
A stroll down a hallway reveals a locker
room complete with lockers and a shower for employees who bike to the office or take a jog during lunchtime. August Mack employs
40 in Indianapolis and a total of 100 at its five locations. The others are in Michigan, Missouri, Ohio and Pennsylvania.
Glanders, who lives in Carmel, peddles the Monon Trail an hour one way a few times a week, weather permitting. A
bike rack outside the building earns August Mack a few more points toward LEED certification.
Besides additional
exercise, a downtown presence allows Glanders and company co-founder Bryan Petriko to be more visible in the business community
and to be closer to clients. August Mack counts the Indiana Department of Environmental Management and several law firms and
banks among its clients.
August Mack's flooring features tile made with cork—considered a renewable
resource—and carpeting containing recycled content. Low-solvent paint covers the walls.
Even employee work
stations are recycled. Carmel furniture broker RDS and Associates rescued them from a customer service center built by Fidelity
Investments that the Boston financial services firm never occupied.
In the conference room sits a large table
transported from August Mack's previous home. The table is made from walnut trees harvested from a property owned by
Dick Shiel, a founder of Shiel Sexton and Glanders' father-in-law.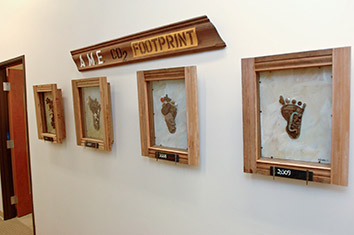 Art work made from recycled materials depicts
the evolution of August Mack's shrinking carbon foot print. Little waste from the renovation went to landfills. (IBJ
Photo/Robin Jerstad)
Besides owning The Lexington building, Shiel Sexton served as August Mack's project coordinator
for the LEED certification process. Cameron Smith, a LEED certified planner at Shiel, led the project.
"The
coolest thing that was done, when we went through and gutted the building, we saved as many wood doors and wood panels and
glass from the building that we could," Smith said.
August Mack recycled nearly 90 percent of the waste
generated during the renovation and spent 96 percent of its furniture and furnishing costs on salvaged and refurbished furniture.
Interest in eco-friendly projects remains strong. Nearly 100 projects in the Indianapolis area have been registered
for LEED certification; 10 have gained the accreditation. Statewide, 28 of the 200 registered projects have been certified.
Despite harsh economic conditions in the commercial real estate market, William Brown, director of sustainability
at Indiana University and chairman of the green building council's Indiana chapter, said green construction continues
to thrive.
"I think we're seeing that across the country," he said.
Glanders declined
to divulge how much his firm spent to renovate its space, but he estimated the expense at about 20 percent more than what
a normal renovation would cost without LEED elements.
Supporters of eco-friendly projects argue businesses ultimately
can recoup their investments through energy savings. Yet, a 2006 study by the London-based Davis Langdon construction consultancy
argues that the difference in average costs for green buildings compared with normal construction is insignificant.•
Please enable JavaScript to view this content.