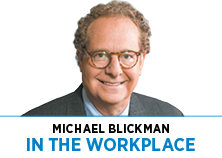 IBJ reporter Lindsey Erdody's article in the July 27 issue of IBJ is a good summary of what an employer should do when an employee reports harassment. Let's widen that discussion to talk about how an organization should handle harassment of its employees by non-employees, including clients and customers.
Case in point: An Illinois federal jury in 2016 awarded $250,000 in compensatory damages to a Costco part-time employee who alleged she was harassed by a customer for more than a year. The lawsuit against Costco was filed by the Equal Employment Opportunity Commission—known as the EEOC—on behalf of the employee.
The customer's conduct included touching the employee while he commented on her body, screaming profanities at her, asking her out on dates (seriously, between the profanities?), deliberately bumping into her, trying to hug her, and taking a video of her. The offender never contacted the employee outside the store, never talked about sex with her, and never threatened her. In addition, months went by without any contact between them.
The employee used the company's internal harassment-reporting process. She also reported it to the police. What did the store do? The targeted employee claimed nothing was done and that, as a result, she was forced to seek a restraining order prohibiting contact by the customer and that she ultimately left her job.
Costco reported that its first response was to instruct the employee to avoid contact with the customer. It later barred the customer from coming into the store, although it did not revoke his membership immediately. It is obvious the jury was not satisfied that enough was done to protect this employee.
Costco is seeking a reversal of the jury's decision by the Seventh Circuit Court of Appeals. During this February's oral argument before that court, Costco's attorney stated that, for retail workers, "It is not reasonable to expect freedom from the unwanted attention of strangers." He also stated, and interestingly the EEOC agreed, that workplace stalking might not always rise to the level of severe or pervasive conduct, sufficient to demonstrate that a hostile workplace environment exists. As of the date this column was written, the parties were still awaiting a decision by the appeals court in Chicago.
The law is clear: Title VII of the Civil Rights Act of 1964 requires an employer to take reasonable measures to maintain a workplace free from harassment based on one's sex. This applies to predatory conduct not only by employees, but also by non-employees.
Aside from the retail industry, any nurse or other health care worker can talk about the prevalence of harassment by patients and others, often including physicians and other professionals. Surveys are done periodically and the typical finding is that one-third of health care workers report having been harassed in the workplace.
Perhaps this pattern will change in the future with more women graduating from medical school and moving into positions of leadership and authority. On the other hand, will we then see an increase in the percentage of harassment claims filed by men?
The conventional approach to the issue of harassment by outsiders is to affirm in an organization's anti-harassment policy that this is prohibited and to describe a procedure for employees to report this conduct. In addition, organizations periodically train management-level employees.
Unfortunately, relying on handbook policies and management training is insufficient, particularly in today's #MeToo environment. Many clients have also come to this realization and are actively bringing anti-harassment training to first-line employees. As one particularly enlightened client has said, "This isn't just a manager issue; this is an everyone issue."
Organizations that have client-facing employees should assume this problem has occurred even though it was not reported. It is not easy for employees to report misconduct by customers or clients out of fear of retaliation—by either the customer, the company or both. You must emphasize to employees that the organization has no tolerance for anyone engaging in harassing behavior.
My training approach is to engage with employees in this issue head-on and talk about how they might be able to address this with a client or customer who places them in an uncomfortable position. Employees must know the organization will not tolerate this kind of behavior, that reporting the behavior is encouraged, and that prompt and effective action will be taken.
Yes, this can mean "firing" a client or customer who does not respond positively to a warning. But that is the right result and it is how employees judge their employers—by their actions, certainly not by their handbook policies. This is also how an organization can avoid legal liability and, more important, reinforce and maintain a culture of respect and dignity.•
__________
Blickman is a partner in the Labor and Employment Group at Ice Miller LLP.
Please enable JavaScript to view this content.