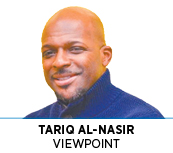 There is nothing more American than the rags-to-riches success story. Chris Gardner, inspiration for the Will Smith film "The Pursuit of Happyness." Oprah Winfrey. Ralph Lauren. Sam Walton.
The legend of their mythic narratives is just as well-known as these figures are.
These inspirational people give others hope that we can take our past and through sheer will create a better future.
Yet, as inspirational as these narratives are—and let's never discount that—the reality is that, statistically speaking, if you are born poor, you are likely to stay poor.
In fact, only 16 percent of children born in poverty escape it, according to research from the US Partnership On Mobility From Poverty.
I believe there is a better answer to childhood poverty than sheer will and bootstrap ideals: STEM, short for science, technology, engineering and math.
It is an occupational sector expected to grow 8.9 percent from 2014 to 2024 (compared with 6.4 percent for non-STEM occupations) and has an average salary ($87,570) nearly twice the national average ($45,700).
Now is the perfect time to turn our gaze toward the future and invest in one of the nation's most undervalued resources, children who are born and grow up at or below poverty guidelines. For the state of Indiana, that is $25,100 for a family of four.
First, an actual need exists for STEM talent today. One million computer-science-related jobs, for example, are expected to go unfilled by 2020, according to the U.S. Bureau of Labor Statistics.
To prepare for this future, which is really already here, what if we introduced coding classes as an elective to nudge students in the direction of pursuing computer science at the college level? Or lab electives where students create solutions—whether through calculation, building or developing—to real-world problems today?
Because a need exists for STEM talent, we can tap into our resources at all levels, meaning K-12 students from every economic background.
Second, childhood poverty is expensive, a trillion-dollar problem, according to a study from the Brown School at Washington University in St. Louis. Coupled with the fact that non-existent talent to fill STEM jobs also translates into a financial loss for the United States, there is a silver lining here.
We can take economically disadvantaged students and expose them to STEM, putting them on the path to pursue these careers.
We can also look at the resources that exist to promote STEM to Indiana students, particularly those who are economically disadvantaged.
First, the Indiana General Assembly has established the Teacher Recruitment Fund to bring more qualified STEM teachers to Indiana schools that focus on underserved areas. The Indiana Department of Education has also developed a STEM education plan for schools to address the need for a more demanding STEM curriculum statewide.
Schools and organizations in Indianapolis and around the state should take advantage of existing funding to improve our educational facilities, the quality of education students in underserved areas receive, and student competitiveness.
I believe early-childhood education in STEM can be a solution to a number of problems—childhood poverty itself, the costs associated with it, and a need for STEM talent. Indiana has the tools. The question is, will we use them?•
__________
Al-Nasir is founder and CEO of STEMNASIUM Learning Academy.
Please enable JavaScript to view this content.