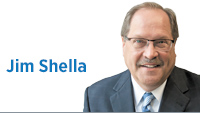 "CNN sucks!"
That's just one of the statements yelled at CNN reporter Jim Acosta at a recent Donald Trump rally. Other attendees made obscene gestures in his direction and some yelled, "Traitor!" and "Go home, Jim!"
With pointed and persistent questions directed at Trump, Acosta has become a lightning rod (and a willing one) for supporters of the president who think he is treated unfairly by the media. They are fueled by reports that Trump has tried to convince his staff to take away Acosta's media credentials.
This is not new. Sam Donaldson of ABC played a similar role when Ronald Reagan was president. Donaldson was always shouting questions when Reagan was within earshot. But instead of calling Donaldson an "enemy of the people," Reagan would simply cup his ear and pretend not to hear him.
The same sort of thing happens at the Statehouse, too. Bob Ashley, then of the Post-Tribune in Gary, was a thorn in the side of officeholders in the 1980s and '90s, and one of his main targets was then-Gov. Evan Bayh, a Democrat. Ashley was loud and disrespectful at times, but always stuck to the issues of the day.
For your interest, Ashley has run for office a couple of times since retiring from journalism. As a Democrat.
Then and now, it's not about politics. It's about journalism and accountability.
Last month in Forefront, I wrote about my belief that Trump's public comments about the media might be making jobs in journalism more dangerous. Some of the reader reaction in the Forefront online comment section mirrored the comments directed at Acosta. I was called "pathetic," a "snowflake," and instructed to "get a life."
In the time since, however, the publisher of The New York Times has met privately with the president to express sentiments that are similar, yet more pointed than mine. A.G. Sulzberger issued a statement that said, in part, "I told the president directly that I thought his language was not just divisive but increasingly dangerous."
He told the president that use of the phrase "enemies of the people" was putting lives at risk.
We learned that because Sulzberger felt the need to respond to a Trump tweet that broke the off-the-record agreement for their meeting. It also mischaracterized the content of the meeting.
"Spent much time talking about the vast amounts of Fake News being put out by the media & how that Fake News has morphed into phrase, 'Enemy of the People,'" tweeted Trump.
(Aside: This episode shows what little regard Trump has for journalists. His demand that NFL players stand during the national anthem shows what little regard he has for the First Amendment.)
But again, none of this is new. When Dan Quayle was running for re-election as vice president in 1992, the MC at a Quayle rally in Indianapolis led the crowd in a chant saying, "Dan's the Best! Screw the press!" I was reporting live on television from that rally and a group of young Republicans from DePauw University (Quayle's alma mater) attempted to shout loudly enough to drown out my story.
It was a Jim Acosta moment, but I didn't feel threatened. Times are different now.
After the attacks on Acosta, a loyal supporter of the president felt the need to speak up in support of the media. Anthony Scaramucci, a one-time White House aide, tweeted, "We can disagree without a war declaration. … Let's dial back the hostility."
None of this is new.
But it feels different.•
Click here for more Forefront columns.
__________
Shella hosted WFYI's "Indiana Week in Review" for 25 years and covered Indiana politics for WISH-TV for more than three decades. Send comments to ibjedit@ibj.com.
Please enable JavaScript to view this content.