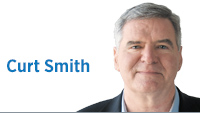 In all the discussions about Indiana Attorney General Curtis Hill's situation, one very important group is being overlooked by those calling for his ouster. Namely, the voters who selected him by an overwhelming margin to serve as our state's attorney general.
One would think that, before Indiana's top elected officials and legislative leaders push to vacate the votes of 1.64 million Hoosiers, Hill should be provided due process—and so should the many Hoosiers who voted to elect Hill, myself included.
There are several paths for that basic fairness to be provided to Hill, to the four women who have made serious and troubling allegations against him, and to Hoosier voters.
One path is for the women alleging the sexual assaults to formally file criminal complaints. Marion County Prosecutor Terry Curry has wisely recused himself and the courts have already named a special prosecutor if criminal charges are brought. It seems reasonable to believe the special prosecutor will give great weight to the victims' charges while also allowing Hill to assert and potentially prove his proclaimed innocence. The special prosecutor would also protect the interests of Hoosier voters by seeking to maximize justice and minimize politics throughout the process.
A second path is for Gov. Eric Holcomb to call the Legislature into special session for the express purpose of considering impeachment charges. If impeached by the House, the Senate would then consider a vote to remove the attorney general from office. A simple resolution passed by a two-thirds majority in each chamber would also remove Hill from office. Some legislators are seeking this, but the possibility of a special session seems remote at this time.
A third pathway—the one unfolding before us—is for Indiana's inspector general to investigate the charges and submit the factual findings to the special prosecutor.
Each of these paths seems prudent and preferred compared to calls for the attorney general's immediate resignation, especially given his repeated assertion of innocence and his public frustration that he has been afforded no due process nor even common courtesies by some Statehouse colleagues.
In 2016, while sending Mike Pence and Donald Trump to the White House and Todd Young to the U.S. Senate, more Hoosiers than ever in history voted to elect Curtis Hill as our attorney general. The vote exceeded that for those three named leaders on the ballot with him in 2016. His vote total actually exceeds that of any elected official in Indiana history, for any office, of any party, at any time.
But the issue is not the historic electoral margin. It is that he stands as a separately elected constitutional officeholder alleged to have engaged in major misconduct. He vigorously denies those allegations and asks to defend himself.
This is all tainted by politics, of course, and the fact the governor would appoint a new attorney general if the office is vacant for any reason (resignation, impeachment or removal). This taint is more apparent because the attorney general has not always agreed with the legislative leaders calling for his resignation or with the governor. Some have even speculated Hill might challenge the governor in the 2020 Republican primary.
So before we push to vacate 1,643,689 votes, it seems prudent to give all the allegations a thorough review through the criminal justice or legislative impeachment process while affording Hill the dignity due him and his high office.•
Click here for more Forefront columns.
__________
Smith is president of the Indiana Family Institute and author of "Deicide: Why Eliminating The Deity is Destroying America." Send comments [email protected]
Please enable JavaScript to view this content.