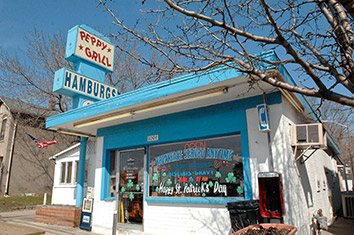 Peppy Grill, the Fountain Square restaurant that was forced to close early this week due to health code violations, has reopened.
"We have great news. We passed our inspection. We can open back up. Will be opening about 2:30 today," the company said Friday in a Facebook post. "I want to apologize to everyone and thank everyone for being so patient with our troubles that we had."
Curt Brantingham, spokesman for the Marion County Health Department, told IBJ on Wednesday that Peppy Grill's license was suspended because of refrigeration issues. The department received a complaint early this week and investigated it Tuesday.
The inspection report notes that mayonnaise, cheese, eggs and milk were all being stored at higher temperatures than allowed by the health department.
Restaurants are required to keep refrigerators at 41 degrees or below, and Peppy Grill had been storing some food at 44 to 54 degrees, according to the report.
The restaurant, 1004 Virginia Ave., was founded about 67 years ago and thrives on its reputation as a greasy spoon.
Please enable JavaScript to view this content.