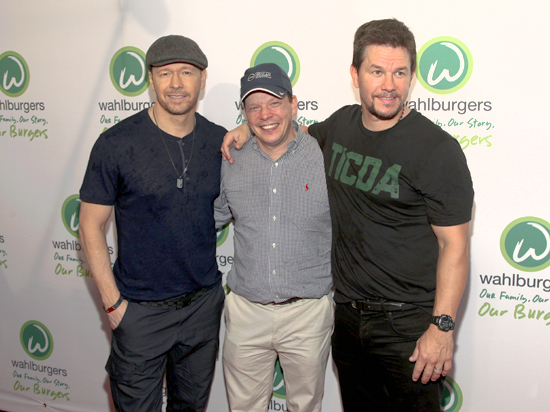 Wahlburgers, the restaurant chain owned by actors Mark and Donnie Wahlberg and their brother Paul, plans to open its first Indianapolis-area restaurant next year in a yet-to-be-disclosed location.
Michigan-based developer Alrig USA is partnering with Wahlburgers on the project, and the restaurant is expected to open in summer 2019, said Gabe Schuchman, Alrig's managing director. 
Schuchman said a site for the local restaurant has been selected, but he declined to identify the location. One strong possibility, however, is in a retail development that Alrig is working on in a Meijer outlot on West Carmel Drive in Carmel.
Massachusetts-based Wahlburgers, which opened its first restaurant in 2011 in the Boston suburb of Hingham, has 25 restaurants in 14 states and four more soon to open in four other states. The chain's menu includes specialty burgers, sandwiches, salads, ice cream floats, and other items.
Wahlburgers' claims to fame include its two famous co-owners and its reality television series of the same name, which is now in its ninth season on the A&E Channel.
Mark Wahlberg, 47, shot to fame as frontman for Marky Mark and the Funky Bunch in the early 1990s before becoming a movie star. He was the world's highest paid actor in 2017.
Donnie Wahlberg, 48, an original member of boy band New Kids on the Block, is known for his roles in the "Saw" films and as Detective Danny Reagan on "Blue Bloods."
Paul Wahlberg, 54, is a trained chef, and co-owns another Hingham restaurant, Alma Nove, with his brothers.
Officials from Wahlburgers declined to talk about their Indianapolis-area plans. A spokeswoman for the company told IBJ via e-mail that Wahlburgers "cannot comment yet as details are still being solidified." 
Alrig has partnered with Wahlburgers on several other projects. The chain's restaurants in Cincinnati; St. Charles, Illinois; and Taylor, Michigan; are all part of Alrig-developed properties. The Illinois and Cincinnati sites are on outlots adjacent to Meijer grocery stores.
Meijer reached an agreement with Wahlburgers last year to include restaurant locations at an unspecified number of new and existing store locations, Supermarket News reported in December.
As it happens, Alrig is working to build a retail development adjacent to a Meijer in Carmel at 1424 W. Carmel Drive.
Alrig, which is based in the Detroit suburb of Bingham Farms, expects to break ground this week on a 11,760-square-foot, multi-tenant retail development at 1424 W. Carmel Drive. The development will stand on a Meijer store outlot that Alrig is buying from the grocery chain. 
The Carmel development has secured Moe's Southwest Grill and Eat the Frog Fitness as tenants, but no tenant has been announced for the remaining space, which has 5,810 square feet available. 
Schuchman would not say whether Wahlburgers will be a tenant in that spot.
Please enable JavaScript to view this content.