CTO
Bosma Enterprises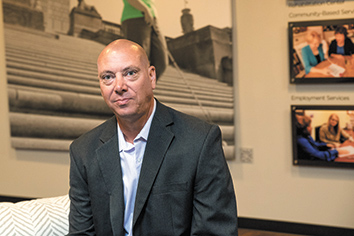 (IBJ photo/Eric Learned)
Major organization achievements during tenure
IT has been a key part of the growth of Bosma Enterprises, which provides training and employment for people who are blind or visually impaired. "When I got to Bosma as an IT consultant, they had six Windows 95 computers and one Novell server," Bailey said. "Today, we are sitting at 150+ workstations, 25 Windows virtual servers, remote employees around the U.S., multiple buildings, and have people that are blind or visually impaired working in all departments around the company all using different technology. The entire business is sitting in the cloud."
Recent tech problem solved
When Bosma was moving to a new facility, construction did not allow for employees to view or navigate the building before move-in. "We purchased two 3D printers and did a rendering of the entire building for our blind or visually impaired users to start to navigate and memorize the building," Bailey said. "Once we were able to get people in the building, they were already familiar with where things were located." 
First computer
"I did not have a computer growing up," he said. "My first experience with a computer was at INB Bank. I was shown how to use it to do what was needed for the job and it didn't take long to figure out that was what I wanted to do with my life. I was like a sponge taking in everything that my peers wanted to show me."
The road
After graduating from Southport High School, Bailey studied criminal justice at Vincennes University but realized it wasn't for him. Instead, he landed a job at INB Bank. From there, he worked with IT consulting companies and spent three years at IBM in the software division. "I knew I had to learn technology as a whole because of my lack of schooling," he said.
On-the-job learning
"I had several bumps in the road along the way, but I have been blessed to work with some great people. The IT field is funny. We don't really have trade secrets as much as we are all doing things to advance our business into the future using technology."
Mentor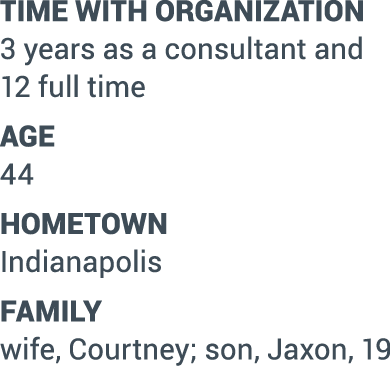 His father. "He was in sales and worked long hours each day. I have a ton of respect for him for showing me that putting in the time will get you a reward. I am never content on what we are doing at the office. I push my team to come up with more innovative ways of doing things. I challenge them each year to come up with one pie-in-the-sky idea." 
Go-to websites
Cars.com, MLB.com, ESPN com, Microsoft.com, Salesforce.com 
Favorite gadget
Anything IoT. "It is just wild," he said, "to think you can control your AC unit from your phone, open or close your garage door, set your alarm or let someone in your house when you are sitting on the beach."•
Check out more CTO honorees.
Please enable JavaScript to view this content.