CTO
Adult & Child Health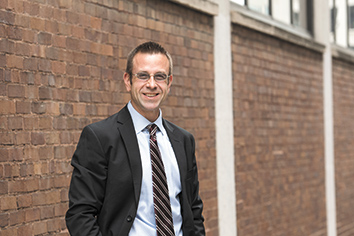 (IBJ photo/Eric Learned)
Major organization achievements during tenure
Adult & Child Health, which assists clients of all ages experiencing serious mental illness, has more than 700 employees in over 120 partnered schools in Indianapolis, Mooresville, Greenwood, Southport, Franklin and Columbus. It also goes beyond those brick-and-mortar facilities to provide mobile outreach. So teleconferencing has been a focus for Berbeco, who implemented a tele-behavioral health program to facilitate remote client visits and led the rollout of Skype for Business enterprise-wide to facilitate teleconferencing. He also led an optimization initiative, leading to a 14 percent reduction to overall IT expenses for the year. 
Recent tech problem solved
Mobility is an important issue for the organization, and Adult & Child Health initiated a daily shuttle service between two of its downtown Indianapolis locations. "To empower all of our 700-plus employees to check real-time status, a GPS tracking technology was installed on the operating shuttles," Berbeco said. "This provided real-time route information and approximate time of arrival at both locations, like how Uber and Lyft apps function. The GPS tracking information app was deployed automatically on all Adult & Child Health iPhones and available to download for personal phones."
Challenge that only tech people would understand
"Developed PowerShell scripts that connect to SharePoint Online, O365 Exchange, and Hybrid Active Directory to completely automate AD account creation and changes without human intervention. The scripts automatically create folders, account information, exchange accounts and send notifications."
First computer
An Apple IIe as a teenager. "Around that same time, I was working on obtaining my scuba certification and studying for the written exam," Berbeco said. "I hopped on the computer, taught myself how to program, and then developed a textually based scuba simulator so that I could practice before taking the exam." 
The road
"Most of my career has been in health care IT," said Berbeco, who earned both a bachelor's in interior design and a master's in science/computer science from Purdue University. While working at Indiana University, IU Health, and IU Health Physicians, his responsibilities grew to include setting technology and eHealth strategy and being a HIPAA security officer. As an operational administrative leader within the anesthesia department at IU Health Physicians, he was responsible for setting financial strategy for the service line. At Community Health Network, he led the business intelligence data architecture team. 
Mentor
His wife. "We've been together for over 27 years. How she views people and the world with kindness has had a significant impact in developing who I am today. I continually learn from her."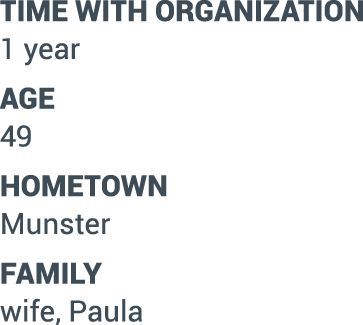 Go-to websites
cio.com, arstechnica.com, healthitanalytics.com and hitinfrastructure.com
Favorite gadget
The iPod. "iTunes and the iPod, completely revolutionized how music content is listened to and delivered."
My job would be easier if …
"applying automation technology to IT infrastructure would make everyone's job better, easier and with less waste."•
Check out more CTO honorees.
Please enable JavaScript to view this content.