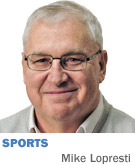 This was last September in New York, Sloane Stephens against Venus Williams. The first all-American U.S. Open women's tennis semifinals in 15 years. Know what else it was?
A match between two Indiana University East alums. Yep, one Red Wolf going against another. "Totally," Stephens said this week at the Western and Southern Open in Cincinnati.
Curious thing. This campus just off Interstate 70 in Richmond has become the school of choice for women's professional tennis players seeking online higher education degrees. More than 20 of them at last count. How many other American colleges can claim they have two tennis grand slam champions on their alumni list?
"I don't think there are any others," IU East Chancellor Kathy Cruz-Uribe said in her office the other day.
Since 2013, IU East has had an arrangement with the Women's Tennis Association to be the exclusive provider of online education for its players. So, how'd that happen? The wife of former executive vice chancellor Larry Richards is a good tennis player, so that was one connection to get it started. Plus, IU East was in the right place at the right time—and delivered by doing as much as possible to make it work. "Probably the easiest process I've done school-wise ever," Stephens called her enrollment and scheduling.
"The story that was told to me by Venus Williams is that she had her associate's degree and was looking to pursue a bachelor's degree," Cruz-Uribe said. "She was looking around online and was impressed by what we were offering, and of course, the IU name was very important. She applied and was accepted, and she had such a good experience, she saw a bigger vision for it.
"These are smart, committed women. They certainly know about hard work. There's a lot of word-of-mouth."
So now there's Williams, with her bachelor's degree in business administration, not to mention her five Wimbledon titles. She has a batch of IU East shirts and has been known to wear them.
And there's Stephens, the reigning U.S. Open champion, with a degree in communications.
"You get a 75 percent off discount," she said in Cincinnati. "Normally, all these WTA players would get full-ride scholarships right? So it's nice you can still [almost] get that full ride and not go physically to college. They offer a lot of support and I think they're really flexible, which is great."
Might there be IU East apparel in her closet, too? "Who doesn't like free stuff?"
Among the current students are Monica Puig, who became Puerto Rico's first Olympic gold medalist when she won the tennis singles in Rio. Also, Nicole Melichar, who just won in mixed doubles at Wimbledon.
"Sometimes the faculty won't know who the person is, but the support staff tend to know. It's a campus effort," Cruz-Uribe said. "They are in our regular academic program, so there's no changes. The semester starts on the day it starts and ends on the day it ends, so they have to meet all the regular requirements. They're a student in the class with everybody else, which is really cool because obviously they're very worldly students. Many of our students haven't traveled very much so they bring some different perspectives.
"So, they are squeezing in their studies between everything else they're doing. They see each other with their computers [on tour], and that's how other students get involved. In some ways, it's not that different from what many of our students here do, because the vast majority of our students work."
Only, these women happen to work at Wimbledon. Not your ordinary underclassmen.
This story from Jason Troutwine, vice chancellor for external affairs: "When Venus first enrolled, she purchased some swag out of the bookstore, and so when a credit card invoice came through that said 'Venus Williams,' that sent up all kinds of red flags for our campus bookstore. They tried to find out if this was identity theft. That was one of the ways our campus first found out she was a student, when she tried to purchase some things through the campus bookstore."
The women can't get to campus for commencement in May—here's a reason you don't hear every day in college—being kind of busy with the French Open. So, IU East schedules special individual ceremonies.
Williams brought her dog.
"I think my favorite story of Venus being here—I'm not exactly the tallest person on the planet," Cruz-Uribe said. "She's standing next to me and they're taking pictures and she said, 'You should put on high heels.' I told her, 'I already have them on.'
"She was happy to speak during her ceremony and I remember she said she wouldn't miss the work, but she would miss the learning."
Stephens came to campus and brought her mother. "In my family, education is very important so I not only wanted to do it for myself but do it for my family," she said.
Russia's Alla Kudryavtseva popped in to get her degree.
"Her dream was to experience an American university," the chancellor said. "We went out to dinner and then we went to a basketball game. She said, 'I had always wanted to have this kind of experience of an American college and sit with students in the stands yelling.'"
Hungary's Katalin Marosi couldn't get here from Europe, so they did a virtual ceremony online.
"We had mailed her her gown, and she's standing there in her gown and we're standing in our gowns," Cruz-Uribe said. "We held up her diploma. Her kid was running around in the background. It was very moving for her."
IU East doesn't use the women in endorsements or overt marketing. But word-of-mouth is a powerful thing.
"That's just not a place we've chosen to go," Troutwine said. "A lot of it is, we want them to feel like this is their school and we're not trying to use our relationship in an inappropriate way. But it has changed things. Every time we go places, it's a question people ask.
"It's an important relationship for us, and we're committed to it, and I think we demonstrate that."
Plus, it doesn't hurt to have Venus Williams and Sloane Stephens in Red Wolves shirts. It's a topic of conversation for tennis recruiting visits, anyway. By the way, the IU East women's tennis team went 14-7 last season.
"The exposure, the brand name, the emphasis on quality taught by our faculty," Cruz-Uribe listed off as pluses. "We have been a leader in online for a long time, but it just helped raise the international consciousness of IU East. It's great to see them wearing our stuff."
Said Troutwine, "Trust me, they all have swag. That's a pre-req."
So, the world's professional tennis players keep coming to IU East's door—electronically, anyway. The school is working on a relationship with the men, too. Larry Richards and his wife, Jane, have endowed something called the Venus Williams Scholarship. Cruz-Uribe gets out to see the women play whenever she can. The Red Wolves of the world have to stick together.•
__________
Lopresti is a lifelong resident of Richmond and a graduate of Ball State University. He was a columnist for USA Today and Gannett newspapers for 31 years; he covered 34 Final Fours, 30 Super Bowls, 32 World Series and 16 Olympics. His column appears weekly. He can be reached at mjl5853@aol.com.
Please enable JavaScript to view this content.