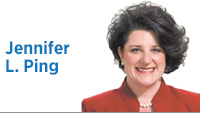 My emotions are raw as I learn of the potential firing of Shelly Fitzgerald from Roncalli High School. To many people who have read the news articles, she is just a name. But to me, she is more; she is a friend. Shelly and I grew up in the same neighborhood and she was my son's guidance counselor at Roncalli.
My family is blessed that she came back to her alma mater to use her God-given talents of connecting with students and families. High school is not easy, and having a good counselor who cares and who is always there (for parents, too) can make a real difference. Shelly is that kind of counselor and I am proud to call her a friend.
I am also proud she is speaking up, but I am heartbroken that Shelly might be fired for choosing to love. It saddens me to think the Archdiocese of Indianapolis and the school I chose to help me raise my son, the school I chose to pay for, the school that teaches love and acceptance are using a contract technicality to out this 15-year employee.
Are there no Roncalli staff who have divorced, remarried, taken birth control or used in vitro fertilization to get pregnant? All are violations of the teachings of the Catholic Church. So, which Catholic rules apply and when? Maybe it is time to make changes and amend the contract to reflect the school's values of love and acceptance.
Roncalli—where the motto is "The Life Prep School"—is having to teach tough life lessons to its students now and must deal with some consequences that are tough to explain. This situation is confusing and difficult for the students of Roncalli to understand, because the potential firing of their beloved guidance counselor undermines the school's teachings of love and acceptance. The students of Roncalli have banded together to stand up for an adult who has stood by them.
I am proud of the students who have organized in a peaceful manner to deliver hundreds of flowers to the school for Shelly and distributed thousands of heart-shaped, rainbow-striped stickers. I was pleased to learn that the school hosted an information-sharing forum for the students. This forum gave the students a chance to share how much Shelly means to them and the impact she has had on their lives. Students shared treasured memories of her and offered examples of the support she provided for them. I pray the Archdiocese of Indianapolis hears what the students had to say.
I also pray the Archdiocese of Indianapolis chooses to take this opportunity to love and accept Shelly and follow the lead of Pope Francis as he said, "A person once asked me in a provocative manner if I approved of homosexuality. I replied with another question. 'Tell me: When God looks at a gay person, does he endorse the existence of this person with love or reject and condemn this person? We must always consider the person … .'" He also added, "If someone is gay and he [or she] searches for the Lord and has good will, who am I to judge?"
Last, I pray the students, parents, alumni and staff of Roncalli who are supporting Shelly know they are loved and accepted, too.•
Click here for more Forefront columns.

__________
Ping is a principal at Bose Public Affairs Group and former chairwoman of the Marion County Republican Party. Send comments to ibjedit@ibj.com.