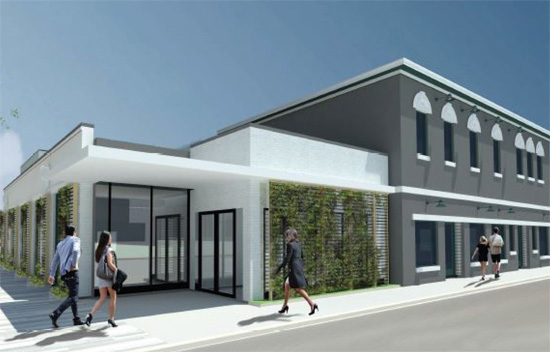 South Bend-based Holladay Properties has begun its redevelopment of the former Milano Inn restaurant at 231 S. College Ave.
The Milano Inn, founded in 1934, was one of the city's oldest Italian restaurants when its owners, sisters Tina and Gina LaGrotte, closed the establishment at the end of 2016. Holladay bought the property, and the block on which it sits, last year with plans to put a mixed-use development on the site. An affiliate of Holladay bought the restaurant site and block in November for $2.3 million, according to county assessor's records.
Work now is under way on the first phase of the project—renovations to the two-story former restaurant, which boasts 9,000 square feet on the ground floor and 6,200 square feet on the upper floor.
Dan Phair, partner and vice president of development at Holladay, said workers have begun to transform the two-story former restaurant building into office and retail space.
Holladay has an office tenant in mind and is talking with several potential retail tenants, Phair said. He declined to identify them, because the contracts aren't yet signed.
"I think there will be a larger story here in a couple of weeks," Phair said.
Holladay already has posted information about the project on its website, including a floor plan showing that a portion of the building would be occupied by an unnamed fitness studio.
The Milano Inn renovations should be complete at the end of this year or early 2019, Phair said. After that, Holladay will move on to other phases of the block's development.
"The Milano building is just one component of the whole city block," Phair said. He told IBJ in 2017 that condominiums probably made the most sense of the property, beyond retail and restaurant space.
Because details are still being worked out, Phair said, Holladay doesn't yet have a projection of how much the total redevelopment would cost, nor does it have a firm estimate of how long the project will take.
Holladay is a commercial real estate company whose development portfolio includes industrial, office, hotel, multifamily and retail projects. Locally, its projects have included the 6.9-million-square-foot AmeriPlex industrial park on the west side. It also confirmed to IBJ earlier this year that it had thrown its hat in the ring with other contenders to develop a hotel at Indianapolis International Airport.
 
Please enable JavaScript to view this content.