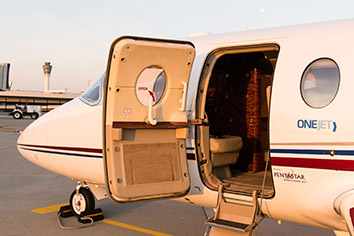 OneJet, a struggling regional business airline that got its start in 2015 by offering weekday nonstop flights from Indianapolis to Milwaukee, has suspended operations until at least October after a series of setbacks.
The Boston-based company confirmed Wednesday that it has suspended scheduled service on all current routes.
In an email to IBJ, CEO Matthew Maguire said OneJet would resume flights in October after transitioning its flight operations "in-house" instead of using other carriers.
"During this transition, we will be suspending scheduled services on current routes," the company said in a statement. "Please accept our apologies for any inconvenience caused by this disruption; the result of this transition will be a more robust and reliable operation for our customers from the fourth quarter forward."
The statement said OneJet would resume ticket sales from Indianapolis on Oct. 1, but it did not say what routes would be offered.
This year through June, OneJet had 996 enplanements—the number of passengers boarding planes—at Indianapolis International Airport, and 1,001 deplanements—the number of passengers disembarking from an aircraft.
That's down from 2,338 enplanements and 2,353 deplanements in 2017.
After launching the first nonstop flights from Indianapolis International Airport to Milwaukee in 2015, OneJet began offering additional flights to Pittsburgh; Memphis, Tennessee; and Hartford, Conn.  It announced plans to offer flights to Nashville but those never materialized.
In April 2016, the company said it planned to make Pittsburgh its main hub for operations, a move that eliminated the routes from Indianapolis to Milwaukee and Memphis.
Regionally, OneJet began offering flights from as many 17 markets, including nine different cities from Pittsburgh.
But the Allegheny County Airport Authority in Pennsylvania sued OneJet earlier this month, claiming the airline owed it $763,000 for not launching or maintaining 10 nonstop destinations from Pittsburgh by the end of 2017, as required under its incentive agreement with the agency.
The Pittsburgh Post-Gazette said OneJet was only offering flights to Indianapolis and Hartford this month before completely ceasing operations.
Meanwhile, the Internal Revenue Service filed a federal tax lien against the company for failure to pay more than $621,000 in excise taxes.
In addition, OneJet's deal to acquire Ultimate JetCharters, parent of the Cincinnati-based scheduled charter carrier Ultimate Air Shuttle, fell through this month. The acquisition had been expected to help both companies expand their operations.
Maguire said it wants to shift OneJet's "operations to a fully owned 135 operating certificate," an arrangement that would allow it to use larger aircraft than the six-seat to 30-seat jets it has been using.
Please enable JavaScript to view this content.