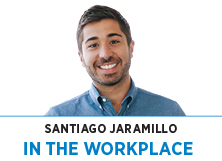 Imagine you wake up tomorrow and more than half of your employees are high school students, working part time, outside in the elements, year-round. How would you not only retain those staff members but also motivate them to do their best work? It may seem like an impossible task, but the leaders at Crew Carwash have managed to do just that.
In a previous column, I discussed the steps to building a culture of high employee engagement. Now I want to share an example of a local company that is actually putting those steps into practice—with amazing results.
I sat down with Billy Schaming, president and chief operating officer of Crew Carwash, and Joe Rice, Crew's director of human resources, to dig into how Crew has built an engaging work culture with world-class customer service, industry-low turnover rates, customer net-promoter scores above the 90th percentile nationally, and recognition as the No. 2 top workplace for large employers in central Indiana.
Hiring for engagement
Hearing the personal stories of Crew's leaders helps shed light on how they've been so successful and why they care so deeply about each of their 700-plus employees. Both Billy and Joe have been in the carwash business since high school; Billy started at his dad's car wash in Pittsburgh and Joe started his career with Mike's Carwash.
Hiring the right people for the right role is a major part of Crew's strategy. The company has extensive interview and screening processes, including at least three rounds of interviews (even for part-time roles). Final hiring decisions are made by area directors, and only one person out of every 100 candidates interviewed is extended an offer. Last year alone, Crew received more than 40,000 job applications.
One way Crew vets qualified candidates is with a job preview video. The video sets clear expectations about what a job at Crew Carwash is really like and what might be challenging about the work. Some candidates drop out after seeing the video. "We'd rather scare them off than set unrealistic expectations," Joe said. "We're looking for people who have the same values that we do, people who have that internal motivation."
Measuring engagement against store performance
Crew executives use metrics to inform business decisions and have a standard scorecard for each of their 31 locations. They measure success against six key-performance indicators and track those numbers against employee-engagement data. In the past, Crew executives used annual Gallup surveys and a one-size-fits-all approach but weren't seeing the results they wanted. They've found that a more agile engagement process allows them to make decisions faster and focus on the initiatives that will make an immediate impact. And the further they drill down into data segments (i.e., store, region, tenure, role, generation) the more equipped they are to determine what employees need to do their best work.
What Crew is doing is clearly working. The company boasts a net-promotor score, or NPS, of 74.6, putting it well above industry averages. (For comparison, the average NPS score for the retail industry is 51.) This means the majority of customers who visit Crew would recommend the business to a friend or family member.
"We believe there's a direct relationship between our NPS and employee engagement scores. The higher our employee engagement is the better our customer engagement is," Billy said.
To foster engagement at each location, Crew relies on its area directors to develop quarterly plans to better use and grow their teams and include employees at all levels in brainstorming ways to improve processes.
"Even if they're young, they're smart and talented people capable of much more than guiding customers into the wash tunnel. We learned to spread out responsibilities so employees aren't doing the same thing all day. We even have associates help with some of the management responsibilities, so they feel better utilized," Billy said.
People want to do more
Improving utilization has given a huge boost to engagement and productivity at Crew. Managers often ask employees with non-carwash-related skills to help on projects outside their regular responsibilities. They also give employees autonomy and empower them to make customer service decisions without manager approval.
Employees are not only encouraged to use their best judgment; they're praised for it. Recognition is a crucial part of Crew's culture, and the company frequently recognizes team members via meeting shout-outs, mobile push notifications and personal interactions.
Building the employee-manager relationship and grooming employees for leadership roles has been key. "We've found the most important person for an employee's engagement is their boss. Each of our teams has to produce a game plan for going after their biggest opportunities. … That's what's getting us the biggest improvement in engagement," Joe said. As Crew Carwash grows, measuring employee engagement and maintaining culture will become even more critical. It plans to open five more locations by 2019.•
__________
Jaramillo is co-founder and CEO of Emplify.
 
Please enable JavaScript to view this content.