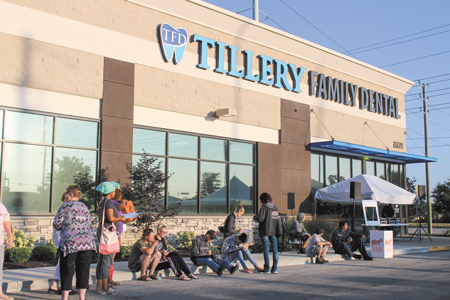 Just off his overnight shift at a Kokomo Chrysler plant, Anthony Swanigan drove 45 miles to the dentist in Indianapolis, hoping to get his cavity filled for free.
Swanigan, 58, sat in a lawn chair outside Indianapolis' Tillery Family Dental for more than two hours, waiting for the free day of dental care that was advertised to start at 8 a.m.

As the sun came up, a line quickly formed behind Swanigan of others hoping for a free cleaning, filling or extraction. Some were Tillery's patients; others had seen a billboard on the highway and jumped at the opportunity.
About One City Worlds Apart
This is the latest story in an occasional series examining the growing gap between the affluent and poor in Indianapolis and ways to address the problem.
Read the earlier stories here
.
Swanigan has dental insurance through his job, but out-of-pocket costs are high. He recently got a bill for $1,800 for crowns he needed, the latest in his attempt to fix what he calls "the worst teeth in America."
"I have two boys in college, and I put them ahead of me," Swanigan said. "Now I'm playing catch-up. I've had to push my needs to the side. Time got away from me so fast."
Dental care has become an out-of-reach expense for many Hoosiers, and who gets access largely depends on income.
Statewide, those earning $50,000 or more per year are nearly twice as likely to have visited a dentist in the past year than those earning less than $15,000, according to the U.S. Centers for Disease Control and Prevention.
In Indianapolis' 10 poorest census tracts, 60 percent of residents had not visited a dentist within 12 months, according to an IBJ analysis of CDC and Census Bureau research. But in the 10 tracts with the lowest poverty rates, just 25 percent hadn't.
The percentage of people who have lost teeth is also higher in poorer Indianapolis census tracts. Nearly 45 percent of people living in Indianapolis' poorest tract—between 30th and 34th Streets, bounded by Fall Creek to the west and Keystone Avenue to the east—have lost teeth, compared with 10 percent in the tract with the fewest poor residents, on the south side in Franklin Township.
"It's a huge problem," said Mary Otto, a Washington, D.C.-based freelance journalist and author of "Teeth: The Story of Beauty, Inequality, and the Struggle for Oral Health in America."
The problem in Indianapolis is similar across the country, Otto said, where about one-third of Americans don't have dental benefits.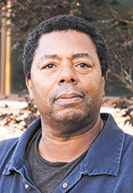 Swanigan
"There's these vast millions of Americans who don't have basic things like adequate coverage or the ability to take off work or pay out-of-pocket," Otto said.
Dental inequality has long existed—nearly 55 million people live in areas where the federal government has determined there is a shortage of dental care, including 1.1 million people in Indiana—but experts say the problem has worsened.
Poor dental care can go hand in hand with other economic challenges, since people embarrassed by their teeth might have trouble eating, communicating or even finding a job, said Gerardo Maupome, associate dean of research for the Indiana University Richard M. Fairbanks School of Public Health.
"We're talking about millions of days lost in work days and in school, simply because people have dental pain," he said. "Poor oral health may not be lethal in most instances, but it is a pretty substantial source of problems for people being able to go to work, go to school."
Tough choices
Making matters worse, more than 75 percent of Indiana dentists don't offer a sliding fee scale for low-income patients, according to a 2017 report from Indiana University's Bowen Center for Health Workforce Research & Policy, which experts say makes it difficult for cash-strapped patients to find access to care.
"Since 2008, the jobs that are coming back, they have fewer benefits or they are part of the gig economy," Maupome said. "That kind of situation will almost certainly guarantee no access to dental insurance, so everything is out-of-pocket."
Rachel Durnel, 36, a north-side resident who stood in line at Tillery shortly after 6 a.m. hoping for a free cleaning, said her family had "weighed the cost [of dental insurance] and said we were better off paying out of pocket."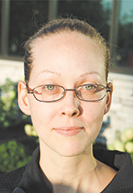 Durnel
But with four kids, including a daughter with a heart defect who has required extensive specialty dental care, Durnel said her own needs have fallen down the priority list.
"She has been our priority as far as budgeting," Durnel said. "I haven't had a cleaning in probably a decade."
The retiring baby-boomer generation also has put pressure on Indianapolis' free and reduced-cost dental clinics. Medicare doesn't offer dental care, and the cost of supplemental dental policies is out of reach for many.
"Even if they wanted to purchase a dental benefit for themselves, it's a choice between that or paying for food, gas or rent," Otto said.
At Indianapolis' Gennesaret Free Clinic—in downtown's Blue Triangle building, a residence for formerly homeless people—the majority of dental patients are seniors, Executive Director Rebecca Seifert said.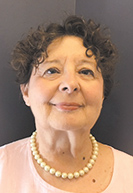 Seifert
"We're the only clinic I know of in Indianapolis that provides dentures and partials virtually free of charge," Seifert said. "A lot of people can't afford the additional policy. There will be a huge need for dental as the population ages for low-income seniors."
Even for Hoosiers poor enough to qualify for public health care like Medicaid or the Healthy Indiana Plan, access to care is tenuous. Statewide, just under half of dentists accept Medicaid.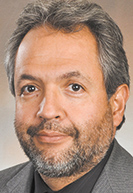 Maupome
Middle of the pack
And not everyone who technically qualifies for the state's Medicaid expansion, known as HIP 2.0, actually receives dental care.

Nearly 75 percent of HIP 2.0 members, or 155,500 people, qualify for the HIP Plus program, which provides benefits like two cleanings a year, X-rays, and limited access to restorative services, such as fillings and crowns.
But that's dependent on HIP members' paying a monthly contribution to a health savings account. When members don't pay, those who meet certain income restrictions drop down to a "basic" plan, which does not include dental benefits. More than 55,600 Hoosiers are in this plan.
Indiana falls in the middle of the pack when it comes to the generosity of its Medicaid plan, according to Otto, the health care journalist, by offering limited benefits as 19 other states do. Some states are famous for having extensive benefits, such as Massachusetts, while others have just emergency benefits.
In Kentucky, Gov. Matt Bevin recently made news by stripping dental and vision coverage to nearly 400,000 of the state's Medicaid recipients after a federal judge blocked his plan to require some recipients to work in order to receive benefits. He reversed the policy weeks later after an outcry.
The requirement that Indiana HIP recipients make monthly payments into their health savings account or lose their vision and dental insurance, Otto said, is "kind of that reminder that dental is just one of those pieces that people continue to think of as a detachable part of the health care program, even though oral health is integral to overall health."
'Loaded with sugar'
Maupome said one key risk factor for poor dental care is living in food deserts, which are defined by the U.S. Food and Drug Administration as areas where residents must travel a mile or more to find groceries. There are 45 such tracts in Indianapolis, according to the USDA.
"You have people who live in places where healthy food is very hard to find," Maupome said. "The convenience stores don't have the motivation to keep fresh foods. They have a whole bunch of things loaded with sugar, loaded with salt."
That's a tsunami for bad oral health, Maupome said, because tooth decay is a sugar-fueled disease.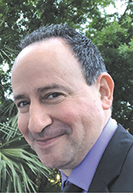 Schrader
If the bacteria we all have in our mouths is "fed continuously on sugar, they become a larger colony, and more adept at creating acids," he said. "Teeth are highly mineralized. If you put them in acid, they start softening. It eventually becomes a cavity."
Untreated, cavities and gum disease can cause serious social and health problems.
Untreated gum disease in particular is connected to heart disease and diabetes, said Stuart Schrader, a clinical associate professor of behavioral sciences at the Indiana University School of Dentistry.
"That's an important story for the general population to know," Schrader said. "Most people who go to the dentist think we're going to fix a hole in a tooth or a gum that's bleeding. They don't think there's a connection to heart disease."
Otto said awareness about dental inequality has increased in recent years, but "one of the reasons this issue has been slow to gain traction is the fact that, for lawmakers and more affluent people, it's kind of an invisible problem."
Policy fight
A debate continues to rage over the best way to bring down costs and increase access for cash-strapped patients.
Doug Bush, executive director of the Indiana Dental Association, said the best way to increase the number of Indiana dentists accepting Medicaid is to increase reimbursement for services. Medicaid fee-for-service reimbursement rates decreased 30 percent in Indiana for child dental services from 2003 to 2013, according to the American Dental Association.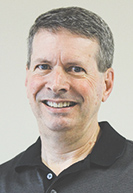 Bush
"The concern we've got is, the state needs to make sure that program is properly funded and the administrative hassles of providing care for Medicaid are minimized," Bush said. "Otherwise, dentists say, 'We'd like to, but it's more trouble than it's worth.'"
Some states, particularly in the Pacific Northwest, are beginning to embrace the use of mid-level providers known as dental therapists. The use of such providers, who are trained in a narrow range of services, is aimed at increasing access to affordable care.
But state dental associations have fought the spread of dental therapists. Bush said he believes permitting dental therapists in Indiana would "create a dual standard of care" where the wealthy would see dentists and the poor would see people who have less training.
He said there hasn't been a legislative effort yet in Indiana to create dental therapists.
But Schrader, the IU professor, believes it is inevitable.
"Lo and behold, again and again, it has been highly successful," Schrader said. "I'm an enormous advocate that the time for mid-level providers has definitely come. That ship has sailed."
'Not even a dent'
Michael Tillery, the Indianapolis dentist who sponsored the free dental day, said he was inspired to host the event after volunteering in Kentucky and in Haiti.
"I've made a very good living doing what I'm doing, and I just feel like this is a way to give back to some people who can't afford the care they need," Tillery said. "It's hard for low-income families to promote preventative dentistry in the form of regular cleanings and check-ups."
Free dental days continue to be a popular way for dentists to serve cash-strapped patients, Bush said.
He said a common refrain from dentists is, "I will give away care, but I'm not going to sign up for Medicaid because it's too much of a hassle."
The problem with that, Maupome said, is that occasional free care is a "drop in the bucket."
"It's a nice gesture," he said. "But it's not really fixing the problem."
Tillery acknowledged as much.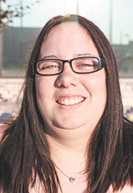 Draughan
"Are we putting a dent in it? Probably not even a dent. There's so many people that go by the wayside and their teeth get put on the back burner."
Samantha Draughan, 24, of Plainfield, who also stood in line at Tillery Family Dental, is one of those people.
She said she is grateful her two children receive dental care through Medicaid. But she fears that lawmakers in Washington, D.C., one day will cut that coverage.
"Sometimes I wonder if it's going to be there tomorrow," Draughan said. "That's scary to me. We need to sit down with our lawmakers. They have to step up on dental care. Nothing's going to change until more people speak out."•
Please enable JavaScript to view this content.