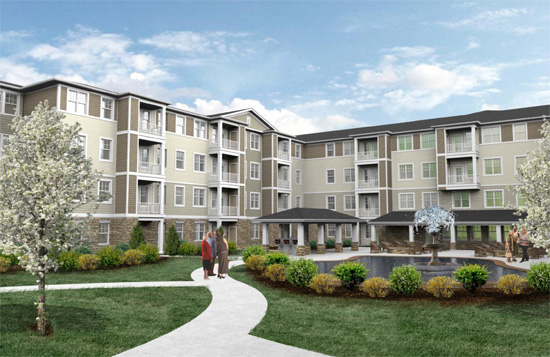 A Plainfield-based apartment developer plans to carve out a 6.5-acre site in a residential block on East 75th Street to build a $19 million, 132-unit complex for seniors.
An affiliate of Samaritan Cos. has secured an option to buy several parcels for the four-story, 170,000-square-foot project, which would sit east of Heritage Christian School at 6401 E. 75th Street and south of a three-building office complex and the intersection of Binford Boulevard and Interstate 465.
Sandwiched between homes to the south and commercial development to the north, Samaritan's proposed project sparked concerns from nearby residents about its height and density, as well as its impact on drainage and traffic.
Ultimately, the Indianapolis Metropolitan Development Commission on Aug. 15 unanimously approved a zoning change and variance of development standards for the project that would allow it to go forward. The changes are set for final approval on the City-County Council's Sept. 10 agenda.
Samaritan's plan calls for market-rate apartments between 735 square feet and 950 square feet that would lease for about $1,000 to $1,500 per month, according to a project narrative submitted to the city. They would be reserved exclusively for people ages 55 and older.
Each unit would include a full kitchen with all appliances, a washer and dryer, and either a covered patio or balcony. The first floor of the complex would include a club room, community room and other gathering spaces, and the second level would offer a business center, salon and several lounge areas.
The development would have a total of 153 parking spaces—103 on a surface lot and 45 in a garage. Samaritan's narrative claims many residents in its senior complexes do not drive or only maintain one car. Thus the project's impact on traffic would be substantially less than that for an all-ages apartment development.
The commission had deadlocked on Samaritan's request at a meeting in July. In the meantime, Samaritan made several commitments to nearby residents to alleviate their concerns, according to Paul Reis, an attorney for Kreig DeVault who represented the developer.
For example, Samaritan promised that the maximum height of the project would be 56 feet. It also committed to adding more landscaping elements, increasing the height of a barrier fence from 5 to 6 feet, and ensuring that light from the project doesn't spill into the residential area, Reis said.
To handle drainage issues, Samaritan has designed the project to capture water in an on-site detaining pond that empties into the city's 75th Street drainage system.
City planning staff continued to recommended denial of the project based on its density of 20 residential units per acre. That runs counter to the area's comprehensive plan, which recommends 1.75 to 3.5 units per acre.
"Furthermore, the site is surrounded by single-family dwellings to the east, south and a portion to the west," staffers wrote in a report to commissioners. "The mass of a 170,000-square-foot, four-story structure would be inconsistent with the residential character of the surrounding properties and the comprehensive land use plan."
Reis suggested that the comprehensive plan was out of date. Christine Scales, the City-County Councilor who represents the area, noted that it is becoming more common to see multifamily projects along major thoroughfares, and that the lack of available land is forcing them to increase in height.
"I think this is just an indicator of a trend that is occurring in our city," said Scales, who spoke in support of the project before the zoning change and variance were approved by commissioners.
Founded in 1987, Samaritan and a sister company currently own and/or manage nearly 8,000 apartment units, predominantly in central Indiana. One of their latest projects is the $25 million, 252-unit Residences on Ronald Reagan development in Avon.
Samaritan anticipates closing on the parcels for the 75th Street project by year's end, according to President Tim Shrout. He expects work to begin in the spring, with an opening slated for summer 2020.
Please enable JavaScript to view this content.