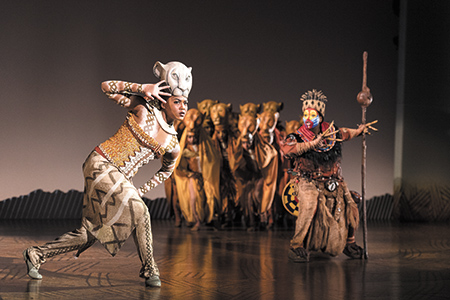 First impressions matter—in life and at the box office.
The first show of a theater's season can define not only expectations, but also fortunes. If you please those audiences from the get-go, you increase the chance of turning them into repeat visitors or subscribers.
In short, it's a once-a-year opportunity to show off what the company is all about.
Here's what's scheduled as the curtain goes up on the 2018/2019 season.
Indiana Repertory Theatre
The state's largest professional theater usually kicks off its season with a period costume drama or mystery in the first slot—nothing too heavy—and perhaps with a literary bent. Not only are these proven audience-pleasers but they also attract school groups, which are key to the IRT's success. This year, the IRT opted for "Holmes and Watson," Jeffrey Hatcher's variation on the familiar in which Dr. Watson is called to an asylum where three men claim to be Holmes. While old-school in style, the play actually comes relatively fresh after its world premiere in 2017. Opens Sept. 25.
Phoenix Theatre
Kicking off its first full season in its new digs—and its first under the artistic leadership of Bill Simmons—the Phoenix has opted for a tuneful and tearful production. It's offering the local premiere of "Bright Star," the bluegrass-tinged musical by Steve Martin and Edie Brickell that had a brief Broadway run in 2016. Jumping back and forth between 1923 and 1946—and making great demands on its leading actress, who plays the same character in both periods—it's a spirited tale of tragedy and reunion set in the Blue Ridge Mountains. Opens Sept. 21.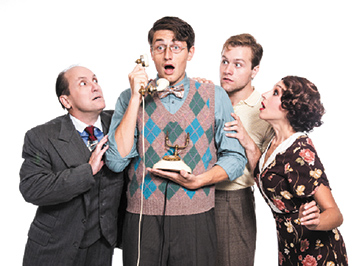 Interplay between four opera singers generates laughs in "A Comedy of Tenors" at Actors Theatre of Indiana. (Photo courtesy of Ed Stewart)
Actors Theatre of Indiana
"Make 'em laugh" is the goal of ATI's opener, "A Comedy of Tenors." Ken Ludwig's sequel to his popular "Lend Me a Tenor" involves collisions among four opera singers, two wives and three girlfriends. Expect identities to be mistaken, bedroom doors to be slammed, spit-takes, clunked heads and a bit of singing—with the added complication this time of an expectant mother about to give birth. Opens Sept. 7.
Fonseca Theatre
Bryan Fonseca's new west-side venture—dedicated to work by and/or about minority artists and subjects—boldly gets started with the hot-button play "Building the Wall," penned by Robert Schenkkan. In it, after a terrorist attack in New York City, President Trump declares martial law and restricts press liberties, with Mexicans, Muslims and others rounded up into camps. Set after Trump's impeachment, it involves a confrontation between a former security officer who helped carry out atrocities and a history professor who wants to tell his story. Opens Sept. 14.
Broadway in Indianapolis
Bookers for the touring shows coming in to Clowes Hall and The Murat are largely at the mercy of geography, availability of shows and other extraneous factors. In other words, they don't have the freedom of choice that the aforementioned regional theaters have. This year, the two prime first-timers here—"School of Rock" and "Waitress" —won't set up shop in Indy until 2019. Instead, the season begins with a return visit from "The Lion King." Opening Sept. 12.
Alas, you'll have to wait longer for the openers for two recently launched theaters. Neither Summit Performance (housed at the Phoenix Theatre) nor Storefront Theatre (which is renovating its own space in Broad Ripple) has yet announced what it has in store for this season.
On the community-theater front, Booth Tarkington Civic Theatre launches its season with "Anything Goes," packed with Cole Porter hits; Footlite Musicals explores Lerner & Loewe's "Brigadoon"; Buck Creek Players tries the eccentric comedy "37 Postcards"; Carmel Community Players takes a nostalgic musical journey with "Forever Plaid"; and Mud Creek Players opens with the screwball comedy "Exit the Body."•
Please enable JavaScript to view this content.