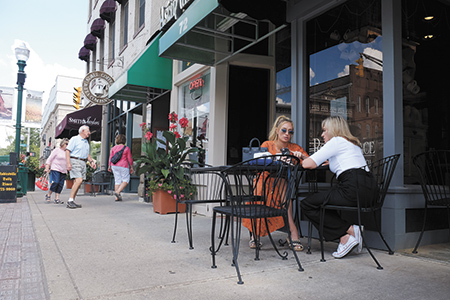 Noblesville leaders say building a mixed-use development in their historic downtown allows them to make history while also preserving it.
Late last month, the city announced a deal with Fishers-based Rebar Development to construct a $24.3 million building with apartments, commercial space and a parking garage on the south side of downtown. Noblesville plans to issue an economic development bond to fund $16 million of the project's cost, with $13.2 million earmarked for the parking garage.
Named The Levinson, the development would be the first mixed-use project built in downtown Noblesville in more than a century.
Noblesville leaders are hoping it will be transformational. They say the housing component will boost residential density, benefiting nearby businesses. And they say the parking garage will address a long-standing parking shortage that must be addressed for downtown to thrive.
Downtown Noblesville was laid out in 1823, and the Hamilton County Courthouse was constructed in 1875. The developer and city officials say they aren't turning their backs on that rich history and are working to ensure the new development fits in with surrounding properties.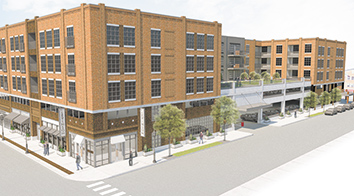 Rebar Development says its preliminary rendering for The Levinson aims for a look that combines historical perspective with timelessness. (Rendering courtesy of Rebar Development)
But some Noblesville residents are worried. After the city announced the project, residents took to social media to express concerns about maintaining the city's historic charm. Others packed into a City Council meeting where the project was introduced.
They're concerned about the height of the building (two stories underground and five above ground), the architecture and the location.
And some don't want to see Noblesville's downtown become similar to those of Fishers and Carmel, where mixed-use developments are the norm.
But city leaders say that, unlike their municipal neighbors that had to build downtowns, Noblesville already has one.
Their goal is to enhance that downtown, not duplicate anything Carmel or Fishers has done. They say they don't want to build a string of mixed-use projects, although they leave open the possibility of eventually doing another one.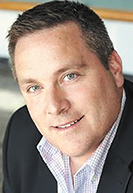 Bowen
Shelby Bowen, president of Rebar Development, told IBJ he's been working with the county historian to design The Levinson and has consulted old photographs and newspaper clippings of the area. He said he's working on a design that is historical but also timeless.
"Those two things can work together," he said. "We knew we had to create something that looked like it belongs there but also looks good in 100 years. That's an evolving process; we're just at the start."
The Levinson is slated for construction on the half block bordered by Eighth and Ninth streets, Maple Avenue and the east/west alley south of Conner Street.
Currently, the lot contains a city-owned parking lot and a building housing Holt Legal Group and Ayer's Real Estate. Bowen's team has negotiated with the firms to buy the building, but he declined to provide details on the agreement.
The residential part of Bowen's project includes 73 market-rate and 10 affordable-housing studio, one- and two-bedroom apartments. Amenities will include a rooftop deck.
A 2,000-square-foot lobby along Eighth Street is slated to feature a public exhibit about downtown Noblesville history. Along Ninth Street, 5,100 square feet of commercial space will be available for retail, office or restaurants.
The four-level parking garage will include 337 spaces. A minimum of 237 will be for paid public parking. Subtracting surface parking spaces the project will leave Noblesville with a net increase of more than 165 spots in its off-street parking inventory.
The building's name, The Levinson, is an ode to one of Noblesville's pioneer families. The Levinsons emigrated from Germany to Noblesville in 1857, where patriarch Neuman David Levinson opened a clothing shop. In 1938, nationally known attorney Salmon Oliver "S.O." Levinson donated his family's former homestead to the city. A portion of the land was used as the former City Hall site before becoming a parking lot.
For years, Noblesville Mayor John Ditslear has had a goal of attracting more residents downtown, which is home to 16 restaurants, eight clothing stores, seven antique shops and three dozen other businesses, including law firms, insurance offices and beauty salons, according to a market analysis the city provided to IBJ.
Earlier this summer, the city unveiled 10 capital improvement projects it would like to undertake in the next five years. At the top of that list was building a mixed-use development near the historic square.
The square already is bustling during the work week with downtown workers and visitors to restaurants, coffee houses and shops. City officials believe the apartments will extend that lively atmosphere into the evenings and weekends.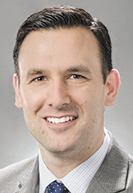 Cooke
For years, they've worked to find the right developer and location for such a project, Deputy Mayor Steve Cooke said.
The administration is pleased with Rebar's initial rendering, he told the City Council last month.
"Preservation is always an important consideration for an authentic downtown like ours," he said. "Sometimes you need to make history as well as preserve it, and in the case of The Levinson … I think we can do both."
Cooke said the city chose the site because it already owned part of the property and it's close to the downtown square.
The property has been home to several buildings over time, and Bowen and his team will draw on those architectural features for the new building.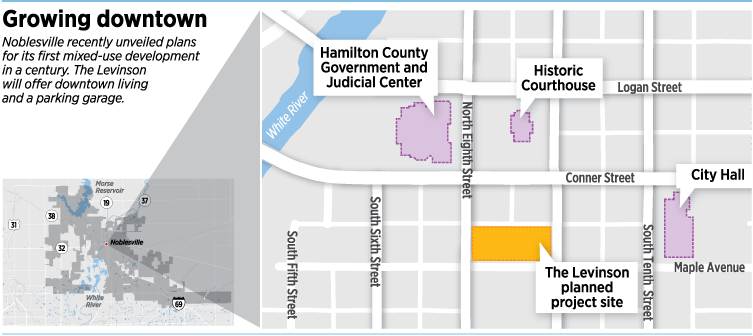 City leaders and the developer say they will take the public's concerns into account when finalizing a design.
But Bowen said he knows that might be challenging.
"What's interesting about Noblesville: There are so many varieties of buildings. If you ask 10 people their favorite building, they might all pick a different building," he said. "The challenge is getting those same 10 people to say they love the way [The Levinson] looks."
Bowen, who worked for the Carmel-based developer Pedcor Cos. for eight years before joining the city of Fishers to help it develop the Nickel Plate District, lives in Noblesville and said he's committed to making sure Rebar gets the project right.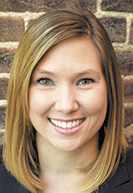 Reed
He plans to bring on board a consultant who can provide additional ideas for adding historical context to the design, he said.
"The next iteration and the final iteration will certainly have some additional homage to the architecture that's already there," he said.
To continue momentum downtown, the city in the next few years will begin drafting a historic overlay district, which will regulate redevelopment to preserve downtown's historic charm, especially among structures near the square, Planning Director Sarah Reed said.
The city also plans to upgrade esthetics downtown and make it more pedestrian-friendly. Possible features include wider sidewalks, pocket parks, places to sit outside, public art and decorated alleyways.
Cooke said those projects can't start until Noblesville addresses its parking problem.
"We believe in our downtown and we love our downtown," he said. "We can't stop from addressing the needs we have."•
Please enable JavaScript to view this content.