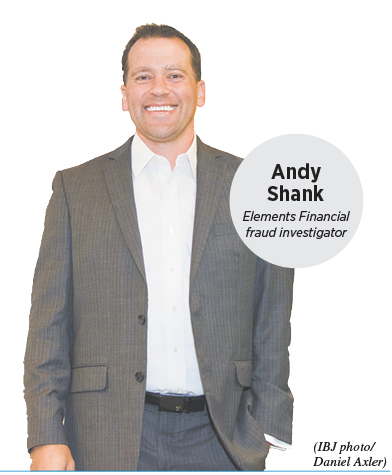 During his six years as an Indiana State Police detective, Andy Shank investigated some high-profile local fraud cases—the Indianapolis Land Bank, Tim Durham and William Conour among them.
But in his current job as fraud investigator at Elements Financial, the 40-year-old Shank is fighting against perpetrators who he says are largely anonymous, overseas and unlikely to be caught.
Shank, who spent a total of 13 years with ISP, now works to protect the credit union's members, alerting them that the "online sweetheart" or "foreign lottery official" they've been sending money to is actually a scammer.
"That's the hardest part of my job—convincing people that they've been defrauded—because they don't want to believe it," he said.
Looking back on the cases you've been involved with, which is the most memorable and why?
The Indy Land Bank case was my case. That was probably the most memorable for me, or at least my flagship case. We had the FBI undercover, we had wire taps, we had the whole spectrum of investigative tools that all culminated with an FBI RV outside of the City-County Building with search warrants and everything.
From my Elements days … in my fourth month here, we had a member who was getting scammed in one of the foreign lottery schemes where he's become convinced that he won this giant jackpot. … At the end of the day, we were able to trace that money directly from our member to Al Qaeda in Thailand.
How do potential fraud cases come to your attention?
We have transactional-monitoring software. It monitors all of our transactions live. …. It's basically tracking for anomalous transactions.
When you spot something suspicious, what next?
If I think someone's being victimized, I've found that it's very hard to get through to them over the phone. They don't know who I am. I've found it much more effective to go see them in person. … If I really harp on it long enough, they will come to terms with it—usually—and realize that they're being defrauded. But that's a hard thing for any human to admit. You have to admit that you've been outsmarted. You have to admit that you got conned out of your money. And you have to admit that you're not getting that money back. So it's a very hard emotional battle for them to come to terms with it.
What do you wish people understood about what you do?
That a lot of the fraud is very preventable if you take a proactive approach to preventing it. That's looking at your statements, making sure your email account is secure, not stepping in the traps of the bad guys. … And you have to take proactive measures these days to prevent your information from being used. Anybody that doesn't have their credit bureau (accounts) frozen, anybody that's not looking at their statements frequently for unauthorized transactions, anybody that's not paying attention to the notices that you get from your bank saying, "Hey, somebody just put a bad password into online banking," you are asking to be victimized.•
 
Please enable JavaScript to view this content.