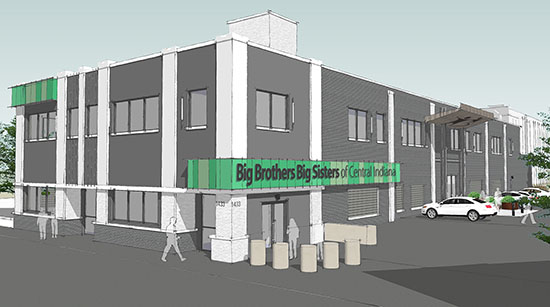 Big Brothers Big Sisters of Central Indiana announced plans Thursday to spend $1.8 million to acquire and renovate a building at 1433 N. Meridian St. to house its new headquarters.
The not-for-profit, which matches at-risk children with adult mentors, expects to begin renovations on the 20,000-square-foot building by mid-October, with completion scheduled for April.
The two-story building will provide more visibility and needed space for mentor trainings, program activities and increased staff capacity. BBBSCI will be the building's only occupant.
The not-for-profit has 35 staff members and 1,350 volunteers that serve as mentors–along with 73 board and committee members.
BBBSCI has been housed in a multi-tenant medical office building at 2960 N. Meridian St., near the Children's Museum of Indianapolis, since 2002.
Core Planning Strategies, Rowland Design and Capitol Construction Services are handling the renovation.
Funding for the project is coming from a new $7 million fundraising campaign called RISE, for "Reach more kids, Inspire new opportunities, Strengthen our community, Emerge boldly."
The campaign is part of a five-year initiative to serve 1,500 children in central Indiana.
"More kids and families want help, but we need to mobilize enough volunteers to reach them," Darcey Palmer-Shultz, CEO of of the not-for-profit, said in written remarks. "To bring our great service to more kids, we need to make Big Brothers Big Sisters top of mind and engage with our community in a new way."
Please enable JavaScript to view this content.