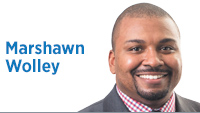 "No refuge could save the hireling and slave, from the terror of flight, or the gloom of the grave."
This phrase comes from a couplet in the full version of "The Star-Spangled Banner," our national anthem. Francis Scott Key, the composer, wrote the lyrics as he watched a battle during the War of 1812. African-Americans have fought and died in every American war, but this particular phrase references slaves who fought alongside the British, against America for their freedom.
That we have a reference to slavery and black people attempting to overcome it in the national anthem, a song ostensibly meant to unite the country, is at least a level of honesty about our nation's history. But I must say it certainly feels odd. It's more than odd. James Baldwin reminds us, "To be a Negro in this country and to be relatively conscious is to be in a rage almost all the time."
The national anthem has become a reminder about the awkward and even hostile existence black people face in America. And while I am not angry, what is worse is that I do experience what black philosopher Bill Lawson calls "social disappointment"—the idea that some black people just seem to understand the "failure of the government to live up to their expectation about their treatment as citizens."
I'm not calling for a changing of our national anthem. Changing the song would be missing the larger point.
Black people operate in spaces and systems designed by others that delegitimize our very humanity—our lived realities are not relevant to significant segments of the country. Nevertheless, we live. We fight against systems designed to dehumanize us by any means necessary and for our equality, including the rights of professional athletes to kneel silently and peacefully during the national anthem.
A word has surfaced recently in our public discourse reminding us of what it means to be in the country but not worthy of rights. A word that reflects a time when a justice of the Supreme Court could say a black person "had no rights which the white man was bound to respect." The word was the rhetorical institutionalizing of the idea of a less-than-person undeserving of America's certain unalienable rights as articulated in the U.S. Constitution.
But there are many ways to make someone less without saying that word. One of them, a more polite version, involves hiding behind respect for veterans who fought and died so citizens would have the right to peaceable protest whenever and wherever.
That this peaceful protest—not unlike sitting at a lunch counter on the wrong side of town, or the integration of schools—stirred outrage remains peculiar. That Colin Kaepernick intentionally consulted with a veteran on taking a knee vs. sitting makes the veteran defense all the more hollow.
Couple that with the national anthem, and one can begin to see why some black people feel social disappointment—others just outrage. It's like thinking the Montgomery bus boycott was about frustration with mass transit. If only those riders had just stayed in their place. If only athletes would "just shut up and dribble." Black people living is just so inconvenient for some people.
There are those who will read this and perhaps question my patriotism. I feel no need to prove anything or defend myself. But I do agree with Baldwin, who also said, "I love America more than any other country in the world and, exactly for this reason, I insist on the right to criticize her perpetually."•
Click here for more Forefront columns.
__________
Wolley is a lecturer at the School of Public and Environmental Affairs at IUPUI. Send comments to ibjedit@ibj.com.
Please enable JavaScript to view this content.