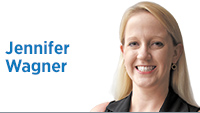 I've reached the point in life where my parenting standard and my political standard have become one and the same: Please, no drama.
With a tween girl and a 6-year-old boy in the house, achieving this standard can feel like a moving target depending on the day of the week and who got more ice cream after dinner. (In fairness to the kids, who might read this someday, they are two of the kindest, most thoughtful humans you will ever meet. They also love each other very much, but they're still siblings.)
I'd like to think that, when it comes grown-ups, specifically those in public service, we could tack closer to Robert's Rules than "Vanderpump Rules".
Reading the headlines each morning, it's clear we can't.
Now, you might think I'm referring solely to the gentleman who resides at 1600 Pennsylvania Ave. and is, on any given day, facing as much criticism from within his own party and his administration as he faces from my party. Unfortunately, he's the president—of a much larger drama club.
Congress has never been a stranger to drama danger, and members on both sides of the aisle are living up to that reputation.
I mean, does it get more dramatic than California U.S. Rep. Duncan Hunter publicly blaming his wife in response to federal charges that they stole $250,000 in campaign funds to support their lavish lifestyle?
And let's not forget that, back here in Indiana, Attorney General Curtis Hill remains center stage as a result of his, ahem, extracurricular activities earlier this year. We also have a U.S. Senate race that's expensive and nasty because we're sometimes a red state, sometimes a purple state. (For what it's worth, neither gentleman in that race seems to be a lightning rod for drama outside of the campaign, which is something to be lauded.)
So, does anyone actually meet my "no drama" standard?
Drum roll, please. The honors go to Gov. Eric Holcomb, with Indianapolis Mayor Joe Hogsett in second place.
In these tumultuous times, the governor has shown an ability to work with lots of different folks on lots of different issues—all while maintaining his Republican street cred. He's likable, which helps, but he also seems to be listening, which helps even more.
Heck, the guy raised gas taxes in a red state because it turns out we actually have to pay for things we want. Now we can have better roads, and presumably because there was so little political outcry, he wants to increase fees on the Indiana Toll Road to pay for more improvements.
Locally, Hogsett has had a fairly uneventful first term with little of the political drama his Republican and Democratic predecessors experienced. His governing challenges have been related to crime and crumbling infrastructure—ironically, something Holcomb's tax hikes are helping repair.
Some have criticized both Holcomb and Hogsett for a slower governing style than prior administrations. It's true that most elected officials have limited time to leave their mark, but from my vantage point, there's no need to move at a breakneck pace when everyone else is causing whiplash.•
Click here for more Forefront columns.
__________
Wagner is a lifelong Indianapolis resident and vice president of communications at EdChoice. Send comments to ibjedit@ibj.com.
Please enable JavaScript to view this content.