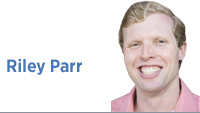 I wrote several months ago about several of my liberal friends' reactions upon learning of Justice Anthony Kennedy's retirement: They seemed to pine for the good ol' days, praising Kennedy and expressing their dismay that the court would be left without the benefit of his deliberations and input. With Sen. John McCain's passing, the same reaction occurred.
The natural reaction to learning of the death of such a distinguished person, regardless of political leanings, is sorrow, usually accompanied by reflecting on that person's contributions. We tend, at least momentarily, to push aside our critiques and disagreements. One repeated observation about McCain stemmed from his ability to work with those he disagreed on some issues to advance those causes on which they could agree.
I'll say it somewhat differently: He had the ability to disagree without being disagreeable (he could also disagree while being disagreeable, but that's for a different time and place). On this broad topic, much has been said, particularly over the last 20 years.
Some would probably say our current climate represents the natural progression from fierce floor debates and ideologically based newspaper attacks of the past—though, if you think the political ads today are uncivil, take some time to look up what 19th- and 20th-century campaigns and PAC ads said about opponents. So from that standpoint, we're actually doing reasonably well, or at least not backtracking.
History provides another upshot for those concerned about today's climate: Past intra-nation disagreements provided the foundation for a stronger union. That does not mean, of course, that the growing process always proved easy. Much the opposite.
I had a friend ask me the other day if I thought the founding of our nation would have happened in today's culture of incivility and many people's apparent inability to consider that they might be wrong, much less contemplate the perspectives and views of others.
After thinking about it, I told him yes. He disagreed. I still think I'm right, and here's why: In periods of turmoil and strife in our nation's past, leaders have always stepped up to guide us out of the proverbial wilderness.
I admit the challenges we face today are not, broadly speaking, caused by some dictatorial regime halfway around the globe, nor by a global economic slowdown. In many respects, the issues with which we now grapple are largely from internal division.
So is the secret that we can come together when faced with a threat from an outside force, but not when the threat is ourselves? President Lincoln, one of our greatest leaders, apparently contemplated that possibility. He said, "America will never be destroyed from the outside. If we falter and lose our freedoms, it will be because we destroyed ourselves."
But that need not be the inevitable result; I firmly believe America's best days could be yet ahead. As my dad told me long ago, in any group there will be 80 percent that you basically get along with, 10 percent you really agree with, and 10 percent you don't agree with at all. The basic concept applies to politics, as well, though the proportions are probably more evenly distributed and instead reflect ideological camps.
I've written here before about my generation's apparent disregard of history and its embrace of ideas that a generation ago were labeled tyrannical, collectivist and totalitarian. Fortunately, on most any given issue, a plurality is up for grabs.
History has shown you gain many more people to your side with a quick, humorous retort than personal vilification. After all, as President Reagan said, it isn't so much that liberals are "ignorant. It's just that they know so much that isn't so."•
Click here for more Forefront columns.
__________
Parr is a student at the Indiana University Robert H. McKinney School of Law in Indianapolis and is treasurer of the Indiana Young Republicans. Send comments to ibjedit@ibj.com.
Please enable JavaScript to view this content.