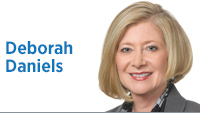 There is a growing movement to bring Indiana in line with 45 states that have passed hate-crime legislation, spelling out permission to enhance sentences for crimes committed out of hatred for a category of people to which the victim belongs.
Why is this necessary? Why are chambers of commerce, virtually all of our largest and most important employers, and Gov. Eric Holcomb strongly and publicly in favor of this legislation?
Let's look back. In recent years, our state leaders have focused in laser-like fashion on making Indiana a welcoming state for new jobs. We have reached out to 21st century companies and sought to build on the successes of longtime employers of thousands like Eli Lilly and Co., Rolls-Royce and Cummins. We are developing a reputation as a technology hub and an advanced manufacturing and life sciences magnet, attracting companies that employ many nontraditional people. Today's jobs require innovative approaches and cutting-edge training and thought.
To continue to be competitive as a state, we must create conditions that attract and retain those leading-edge companies and the diverse workforces they must employ in order to remain competitive. We must recruit today's (and tomorrow's) top talent, who, even if they themselves are white Anglo-Saxon protestants, feel strongly that those unlike them must be welcomed and protected. Millennials feel particularly strongly about this—and it cannot be denied that they are our future.
But in the debate on the need for hate-crime legislation, that point—the economic imperative of the legislation—is often missed or ignored.
Years ago, when I was a prosecutor, the prospect of hate-crime legislation was first raised. And I reacted like a lawyer. I thought the courts already had the capability to sentence at the higher end of the range for such crimes, though in truth there is no specific statutory language naming permission for an enhancement for a crime grounded in bias against the group the victim represents.
But my thinking has evolved over the years. I am now convinced we need such legislation.
Some opponents of the legislation say it is largely symbolic—that its purpose is primarily one of sending a message. I say: So what's wrong with that?
It is crucial that we send a clear message that Indiana welcomes a diverse population, that we want people of diverse backgrounds to live and work among us, and that we value their different perspectives. Only in this way can we thrive as a state.
Some want to remove the language identifying the categories of victims that would lead to the sentence enhancement. But without that specific language, we send no welcoming message at all, and the legislation has no purpose. Besides, at least one state's supreme court struck down that state's language, lacking designated protected classes, as unconstitutionally broad.
Some express concern about the inclusion of sexual orientation and gender identity as protected categories. Would that mean it's OK to target homosexuals, but not Christians?
I am not a fan of excessive political correctness (as in the sad matter of racecar driver Conor Daly's loss of branding for something his father said before he was born). But this is another thing entirely.
It is fully appropriate to tell the talented workforce we so desperately need that we want them here, and that we won't allow them—or their friends—to be unfairly targeted. Clearly conveying that message is critically important to the future of our state.•
Click here for more Forefront columns.
__________
Daniels, a partner at Krieg DeVault LLP, is a former U.S. attorney, assistant U.S. attorney general, and president of the Sagamore Institute. Send comments to ibjedit@ibj.com.
Please enable JavaScript to view this content.