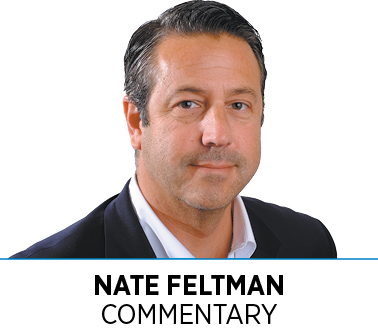 Do you find yourself turned off by politics more than ever? Do your kids seem less informed and less interested in what is happening in our country, our state and our cities? Do you find yourself turning off the TV because of the screaming and what the talking heads are feeding us? Are you sick of the extreme banter on social media? Are you fearful the next occupant of the White House might be a declared Socialist?
If the answer is yes to all the above, the extremists in both political parties are getting what they want: more power to call the shots and control our lives. The more we tune out and then decide voting isn't worthwhile because nothing will change, the more we cement the extremists' power.
Before 1988, if the average American were asked to name the biggest threat to our democracy and way of life, the answer likely would have been communism and the Soviet Union. Today, I would argue the biggest threat to America is ourselves. Put simply, it is the indifference of America's pragmatic middle to vote and to have its voices matter more than the extreme right and left of both political parties.
There are many reasons moderate leaders with pragmatic ideas seem fewer and fewer today: Partisan gerrymandering, the never-ending flow of money into political races and, arguably, the fact that we no longer have a common enemy, such as the Soviet Union, to unify our politicians and electorate (just to name a few). The result is, we elect highly partisan leaders who believe compromise is a dirty word. Therefore, no progress is made on important issues such as our national debt.
What is the answer? We can and should work to make congressional districts more diverse and therefore more competitive (and less likely to produce extremists). We can try to limit money in politics by changing laws, but the Supreme Court in the Citizens United case held that money equals free speech.
I believe the answer most likely to produce results is the organization and engagement of the pragmatic middle, people who are currently turned off by politics and are waiting for an opportunity to be engaged.
The question then becomes, how do we energize and organize the moderate, pragmatic middle that could help us elect leaders who work together to address our nation's challenges?
Maybe the time has come for a new political party in America. Some of us are old enough to remember the last time an independent presidential candidate garnered nearly 20 percent of the vote. The year was 1992, and nearly 20 million Americans voted for Ross Perot as an Independent candidate for president, with the majority of his support coming from self-described moderates. If an independent candidate could energize America's moderate middle in 1992, wouldn't that be even more possible today?
When asked to describe my own political beliefs, my answer is easy and well understood in Indiana: I'm a Mitch Daniels Republican—or an MDR. This means I want fiscally conservative leaders who lay out a road map of progress and then go about methodically implementing the promised agenda. Leaders who put their constituents' interests first, not their own. Leaders who are honest, transparent, not afraid to take a risk, not beholden to special interests and who appeal to our best virtues rather than promoting divisions and tribalism. Leaders who work to empower people to reach their best and fullest potential by eliminating the barriers often erected by our ever-growing government.
Perhaps our traditional party labels are too toxic. Maybe it's time for the MDR party.•
__________
Feltman, an attorney and former secretary of commerce for the state of Indiana, is a shareholder in IBJ Corp., which owns the Indianapolis Business Journal. To comment on this column, send email to [email protected]
Please enable JavaScript to view this content.