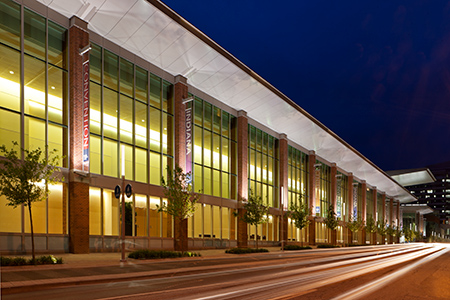 The Indiana Convention Center is a huge meeting facility. But it's definitely not the biggest. Not even close.
Since its first iteration opened in 1972, it's undergone four major expansions. The last one, completed in 2011, increased its size to six city blocks and more than 566,600 square feet of exhibit space—or 745,210, if you include nearby Lucas Oil Stadium.
By almost any other standard, that's big. But the facility, which hosts about 550 events annually, competes in an industry where cities fight tooth and nail for a share of the nation's meeting dollars. The Convention Center and Lucas Oil Stadium are, taken together, only the 15th-largest convention center in the nation.
The top three convention centers are McCormick Place in Chicago (2.6 million square feet), the Orange County Convention Center in Orlando (2.1 million square feet), and the Las Vegas Convention Center (1.9 million square feet). And the big boys keep getting bigger. Las Vegas, for instance, is building a massive addition that will bump its square footage to 2.5 million in 2021.
Experts say grabbing a slice of the $91-billion-per-year convention business makes all this construction worth it.
"If you land one of the 50 biggest shows, that's something like a $70 million economic impact for your city," said Gabrielle Weiss, publisher and editor of the industry publication tradeshowexecutive.com. "That's certainly something worth going after."
Yet in spite of the seemingly never-ending building boom in other cities, the folks responsible for marketing Indianapolis' convention center don't see a pressing near-term need to expand. Not dramatically, anyway.
"Based on the size and scope of the Indiana Convention Center and the attached Lucas Oil Stadium, Indianapolis is capable of bidding to host roughly 75 percent of the meetings and trade shows that are currently in the U.S.," said Chris Gahl, senior vice president of Visit Indy.
"We believe, based on our pacing and the number of conventions and events that we have put onto the convention calendar in the years ahead, that we're very healthy with the size of the convention center and the square footage we can offer."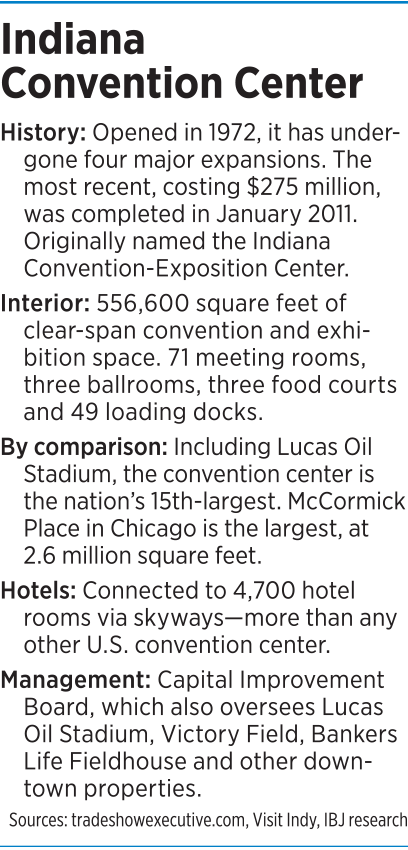 Indianapolis can't host anything remotely as big as, say, the Consumer Electronics Show (which takes up every square foot of Las Vegas' convention space, along with pretty much all its hotel rooms), but it's still able to approach the organizers of about 1,000 gatherings annually.
The reason the city is so sanguine about its position is because it possesses a "killer app" of sorts that differentiates it from most competitors.
Approximately 4,700 hotels rooms are directly connected to the convention center via climate-controlled walkways, and the facility is in the middle of a very compact downtown—meaning it's possible to spend a weekend here without once boarding a shuttle bus or taking a cab.
"There's a reason Indy designed the city the way it did," said Amanda Cecil, a professor in IUPUI's Department of Tourism, Conventions and Event Management. "Everything's connected, and it's to bring in large events. For meeting planners, it's a dream. You don't have to shuttle people around, and you can get to or from the airport in 10 minutes. We don't have a beach or mountains, but we've got an awesome design for events."
Size matters
Much is sometimes made of Indianapolis' lack of natural assets, but Debbie Locklear, president of Indianapolis-based Meeting Services Unlimited, an independent meeting planning firm that works with groups across the nation, said scenery doesn't cut much ice with her peers. Or not very much, anyway.
"Most people who attend conventions are there just for that," Locklear said. "Normally, you're so heavily booked during a convention, you don't have much time to do anything on your own. So when we look at a city, it's not necessarily for the attractions it offers."
What does matter is size. When she's checking out a meeting facility for a client, the first question (besides whether it's open on the required days) is how much square footage it offers. Next is how many hotel rooms are available, and then (maybe) particulars about the municipality itself. Restaurants and scenery are nice, but square footage and room counts are where the rubber meets the road.
"It isn't as sexy as it should be," Locklear said.
Indianapolis, she maintains, often comes out on top in this sort of calculus. But not always. Not even, given the size and scope of the competition, most of the time.
"Indianapolis is one of our favorite cities, but we have others that are similar," Locklear said. "Denver is a very attractive package. I think they are probably one of Indianapolis' biggest competitors."
By the way, the Colorado Convention Center, currently at 584,000 square feet, is in the midst of a massive expansion.
Though local officials don't see a similar growth spurt in the Indianapolis facility's immediate future, there is one brick-and-mortar addition they badly want—a new, large, skyway-connected downtown hotel.
According to Visit Indy, Indianapolis has just shy of 7,000 hotel rooms within a half mile of the convention center, placing it behind such competitors as Boston, Chicago, Cincinnati, Minneapolis and Pittsburgh.
Research conducted by New York-based HVS Global Hospitality Services asserts that downtown could absorb an 800-room hotel if it were accompanied by a 45,000- to 60,000-square-foot ballroom, either in the hotel or nearby. The Capital Improvement Board sent out a "request for information" to some 40 developers early this year, gauging their interest in building an 800- to 1,000-room hotel adjacent to the convention center.
"In the coming months, they expect the decision on where a hotel will go and who will partner to build it," Gahl said.
'Collective energy'
Picking a location will be tricky. The contenders are Pan Am Plaza, across the street from the convention center's main entrance; publicly owned parking lots north and south of Lucas Oil Stadium; and the World of Wonders garage at Circle Centre. But all the options come with concerns. Pan Am Plaza is owned by two different firms and would require massive demolition work, as would the Circle Centre garage. The Lucas Oil parking lots are off the beaten path.
The problem of finding a spot for a hotel is just a foretaste of the difficulty of finding acreage for yet another convention center expansion. At this point, however, city officials think the convention market will allow them to kick that can down the road a few years. The 2011 expansion rocketed the convention center's relative size from somewhere in the top 40 into the top 20—a position it's retained ever since.
"At this point, we don't believe we need any more convention space," Gahl said. "Rather, the need is for additional hotel inventory. That's where we're putting our collective energy."
The city enjoys another advantage. In a field crowded with deep-pocketed competitors, Indianapolis has become a strong niche player in areas such as sporting events, religious gatherings and medical conferences. It also boasts a substantial list of conventions and events, from Gen Con to the Fire Department Instructors Conference to the Performance Racing Industry Trade Show, that have stuck with Indianapolis for years or even decades.
"We are a bit of an anomaly to have the number of annual conventions we do," Gahl said.
Not that Visit Indy doesn't feel the heat. Competition has never been tougher. And in spite of what the experts say, the marquee value of a "name" destination such as New York City or even Denver offers a palpable advantage. That's why, when Visit Indy salespeople pursue new business, they strive to get boots on the ground.
"We know that seeing is believing," Gahl said. "If we can get a C-suite executive to come to Indy to walk our convention package and see our destination as a whole, he or she is more likely to book Indianapolis."•
Please enable JavaScript to view this content.