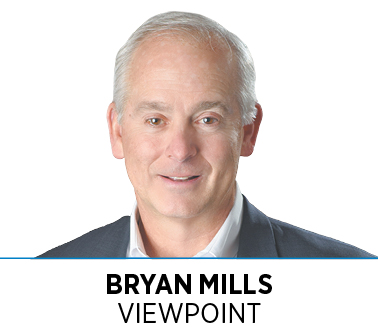 It was a simple question, posed by my board chair at Community Health Network: "What are you doing to reduce the cost of health care?"
As it happens, there's a fairly simple answer to the question of how we as a society can spend less on health care: We must make people healthier, so they won't need as much health care.
Here in Indiana, there's a lot of room for improvement in that regard. We land at or near the bottom of just about every measure of health and wellness. That's why we created the Alliance for a Healthier Indiana—to start lifting our state up from the depths those health rankings measure.
Tobacco use is a logical place to begin making a difference. Smoking causes cancer, it raises the risk of heart disease, it more than doubles the risk of stroke, it increases absenteeism at work, and it cuts lives short. It's estimated that Indiana loses $7.6 billion a year in health care costs, lost productivity and premature death, all because of tobacco.
That's not exactly news, yet lots of people still use tobacco—Indiana's smoking rate of 21 percent is among the highest in the nation. What does seem to have an impact is making smoking more expensive, which is why Indiana needs to raise the tax on tobacco.
Research suggests that a 10 percent increase in the cost of cigarettes cuts the number of pregnant smokers 7 percent and reduces the number of kids who smoke by a similar percentage. Indiana's tobacco tax of 99.5 cents per pack of cigarettes is one of the lowest around, and our proposal is to increase that tax at least $2 per pack.
Doing so would raise money we could reinvest in smoking-cessation programs. Just as important, it would persuade more people to commit to quit smoking—or avoid starting in the first place.
That, in turn, would quickly have a dramatic impact on how much we spend on health care in Indiana. Lower rates of cancer. Less heart disease. Fewer strokes. And for thousands upon thousands of Hoosiers, a better quality of life.
If we can work together to get a handle on smoking, there's no limit to the other positive impacts we can have on Indiana's health. Tobacco is the first target of the Alliance for a Healthier Indiana—the low-hanging fruit, so to speak. There are plenty of other places we can make a difference, ways we can improve Hoosier health and lower the cost of health care.
How we reduce the cost of health care in Indiana really is a simple question with a strikingly simple answer. That's not to suggest that making people healthier is an easy task, but if we work together and take one realistic step at a time, it's possible to spend less on health care and free up funds to invest in other priorities. Raising the tobacco tax is one simple action we can take that will pay impressive dividends.•
__________
Mills is chairman of the Alliance for a Healthier Indiana and president and CEO of Community Health Network.
Please enable JavaScript to view this content.