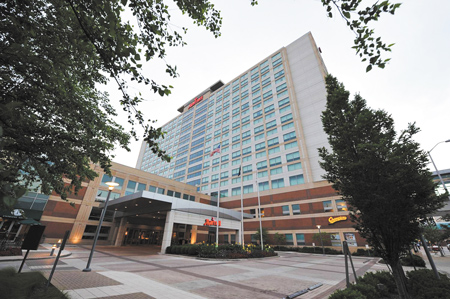 The Indianapolis hotel market is booming, with about 2,800 new rooms slated to come online downtown alone in the next five years.
Nearly a dozen projects are in various stages of planning or construction, from the 316-room Hyatt Place/Hyatt House project under construction across from Bankers Life Fieldhouse to the 180-room Intercontinental Hotel at Illinois and Market streets that Indianapolis developer Keystone Realty Group hopes to begin building late this year.
Then there's the long-discussed 800- to 1,000-room convention hotel that tourism officials say would help the city snag larger conventions and meetings. The Capital Improvement Board, which sought ideas from developers early this year, expects to decide in the coming months where it will go and who will build it.
Meanwhile, smaller-scale projects are proliferating, from the 146-room TownePlace Suites going up near Lucas Oil Stadium to a 128-room Aloft that will go in the 12-story Stock Yards Bank & Trust Building at 136 E. Market St.

Hotel projects also are popping up in the suburbs, from a 174-room Embassy Suites Hotel & Conference Center scheduled to open in Plainfield late this year to a 180-room hotel St. Louis-based Drury Development hopes to open near Interstate 465 and Michigan Road in 2022. CBRE Hotels Advisory, using data from Tennessee-based hotel data and analytics firm STR, says at least 30 hotels are being planned or are under construction in the Indianapolis area outside of downtown.
But can the region absorb the deluge of new rooms? Some developers and tourism officials are bullish, in part because of the market's strong recovery since the Great Recession.
CBRE Hotels Advisory reports that occupancy in Indianapolis' central business district has hovered around 73 percent for the last five years, but average daily rates have gone up 20 percent, to $166, and revenue per available room also has climbed 20 percent, to $121.
"From the demand perspective, we are at an all-time high with interest and booking conventions and events," said Chris Gahl, Visit Indy's senior vice president for marketing and communications.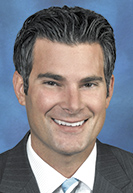 Gahl
"We are optimistic and relieved that Indianapolis, and specifically downtown, will see a burst of new inventory come online in the coming years. We have absolutely no fear that Indianapolis will become overdeveloped."
Gahl said his group puts out bids to host more than 1,000 conventions and events each year. On average, it hosts about 500, in part because of limitations on hotel capacity.
He said Visit Indy has received "constructive criticism" related to "the ceiling we've hit in terms of the number of hotel rooms offered."
He said a new convention hotel with up to 1,000 rooms would relieve the pressure, allowing the city to host two citywide conventions at the same time.
Gahl expressed confidence the increase in hotel rooms would "give us a competitive edge to continue to win convention and event business, and moreover, to retain current convention and event business the city has won on an annual basis."
'Recessionary problems'
But other observers see looming challenges.
Jan Freitag, senior vice president of lodging insights for Tennessee-based hotel data and analytics firm STR, said finding workers to construct and staff hotels is becoming harder as the labor market tightens.
Freitag said STR's research indicates that, in the last seven of eight months, the number of hotel rooms under construction nationally has declined compared with the same time last year.
"We interpret that to mean the pipeline is stagnant and that construction has gotten harder," Freitag said. "I have no doubt room demand is there, and we can fill the rooms. The question is, can we clean the rooms?"
Conversely, the onset of a recession, which economists anticipate in the next few years, would loosen up the job market but create a whole new set of problems for hoteliers.
"Hotels are much more susceptible to recessionary problems than they are to overbuilding," said Mark Eble, managing director of CBRE Hotels Advisory.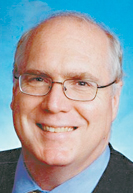 Eble
"They're much more worried about a big recession than they are about a new 100-room hotel. That's not to say that, if you've got a 20-year-old Hampton Inn and a brand new Tapestry by Hilton opens across the street, that you're going to be happy."
CBRE predicts that, over the next five years, hotel occupancy in the Indianapolis area will decrease slightly—from 65.1 percent in 2017 to 63.2 percent in 2022.
Competitive position
The key to keeping the Indianapolis hotel market healthy is building projects that create new demand, as officials believe the new convention hotel would do, rather than just adding to supply, experts say.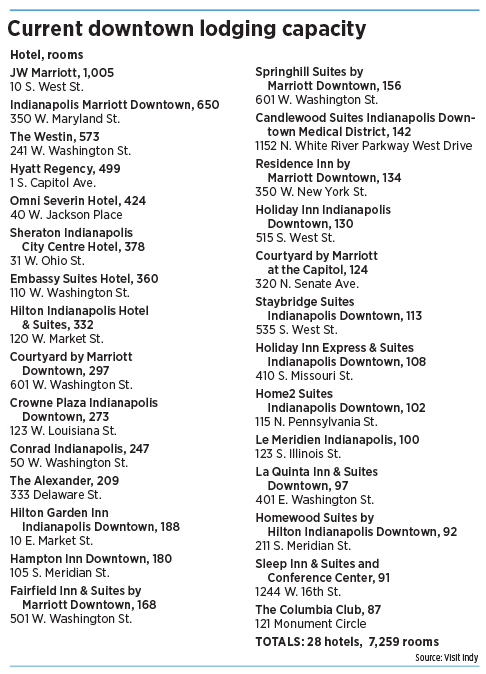 The other key is improving the city's standing in the quest to attract big groups, Eble said.
Fears about hotel overbuilding have cropped up before, most recently when the 1,005-room JW Marriott was preparing to open in 2011, Eble said. So far, he said, the sky hasn't fallen.
"There were a lot of really nervous people in 2010 and 2011 before the JW opened," Eble said. "Not only did we not die, it actually got better. It was absorbed immediately. That proves the notion that the pie is not finite when it comes to big groups."
Even so, he said, operators of older hotels have reason to fret as newer properties come online, especially if they haven't regularly renovated to keep them in tip-top shape.
"Yes, you're building a ton of new hotels, and everybody who has a hotel already would be better off if they didn't, but that's real life," Eble said.
"In the hotel business, new always beats old. There's nothing unusual or profound in that."
Mike Wells, president of Indianapolis-based REI Real Estate Services LLC, which helped develop the JW Marriott and the nearby Indianapolis Marriott Downtown, said Indianapolis can absorb most of the new hotels in the pipeline.
Wells
But he said he does have concern about the city's desire for another convention hotel of the scale of the JW Marriott, even though he said he understands what tourism officials are trying to accomplish.
"They like to get as many large blocks of rooms as possible [to sell conventions]," Wells said. "They do an excellent job. I don't believe it will induce enough additional business to allow occupancies to stay basically where they are today. That one, I think, will have an impact."'
Experts say one reality that could temper supply is that some projects typically fall by the wayside.
"If it's a person who doesn't have land, doesn't have financing and doesn't have a plan," Freitag said, observers should be "very tentative" about expecting it to come to fruition.
For their part, hotel developers say they are unfazed by the blitz of new projects.
Shaheed-Young
"We expected significant growth in the hotel market within the downtown area," said Patrick Turek of Drury Development, which is planning to start construction in 2021 on a 350-room Drury at the current site of IBJ Media's headquarters at 41 E. Washington St.
"Our plans project against that growth. So long as we can get through all the necessary approvals from the city, we anticipate moving forward."
And Jasmin Shaheed-Young, senior vice president for Keystone Realty, said her firm and hospitality consulting firm HVS "spent significant time and resources to determine the viability of an Indianapolis Intercontinental."
Keystone believes the addition of a global luxury brand like Intercontinental will "diversify our current mix of hotel offerings and positively impact local tourism and convention business," Shaheed-Young said.
"The trends all point to not only capacity to support, but an environment ripe for growth. With more hotel rooms coming online, Indianapolis will be more competitive as we bid on national and international events."•
Please enable JavaScript to view this content.