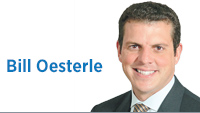 38th Street should be awesome. It's not, but it should be. A long time ago, when it was called Maple Road, it was a grand parkway for the city. I believe it can be again.
In the interest of full disclosure, I own property on 38th Street. Some friends of mine and I purchased the old Indiana National Bank building at the corner of 38th and Washington Boulevard. We bought it for the simple reason that we were tired of a great old building looking so sad. Since we have owned it, I have come to see our building as a metaphor for all of central 38th.
The 2-1/2 miles between Michigan Road and Fall Creek Parkway along 38th Street contains an amazing array of key city assets, including the Indianapolis Museum of Art at Newfields, Crown Hill Cemetery and the Indiana State Fairgrounds. It is bounded by White River and Fall Creek. Maybe most important, it intersects our three busiest bike trails.
In spite of all this, it looks like crap.
Uncontrolled traffic, abandoned buildings and litter make it look awful. On some corners, it's dangerous. There is no excuse for its being this way. Worse still, the city spent something like $30 million back in 2003 to "make it the most beautiful street in the Midwest." It was an urban-planning disaster. This boondoggle turned the street into a freeway and the sidewalks into an obstacle course.
Since moving my office to 38th Street, I have noticed a few things that give me some hope. If built upon, maybe they could be transformative.
That $30 million in 2003 made 38th completely unfriendly to bicycles and pedestrians. Nevertheless, the street hosts an amazing amount of bicycle and pedestrian traffic. Intrepid bikers and walkers, many of whom have no alternative, brave a Faustian choice between high-speed traffic on the street and undersized, obstacle-strewn sidewalks. Some parts of the Indianapolis Cultural Trail would die for the foot traffic 38th Street gets. Imagine what a fully dedicated bike lane running from the Central Canal Towpath across the Monon Trail to the Fall Creek Trail would do. It would be both busy and traffic-moderating.
Also, I think we can fix the trash. Trash at our building seemed to be originating at the bus stop out front. Amazingly, there are no trash receptacles at bus stops on 38th Street. I don't know why, but I do know that you are not allowed to have food or drinks on the bus. If riders make the mistake of carrying a drink to the bus stop, they are forced to throw the drink on the ground or miss the bus. Guess which they choose?
We put three large trash receptacles out by the bus stop and at the corners. The result was stunning, far better than hoped. The trash disappeared. It restored my faith in humanity. Why can't IndyGo or the city put trash cans at the bus stops? If not, let's raise some money for Keep Indianapolis Beautiful to do it.
Last, the city needs to get serious about the vacant properties on the street. Code enforcement should make a high-profile example of property owners on 38th Street who flaunt the law. About 40,000 cars a day drive by buildings that are in clear violation. Each building is a billboard for ineffective code enforcement.
One bike lane, some trash cans and code enforcement. Maybe that's all it takes.•
Click here for more Forefront columns.
__________
Oesterle is the CEO at Tmap LLC. He managed Republican Mitch Daniels' first run for governor. Send comments to ibjedit@ibj.com.
Please enable JavaScript to view this content.