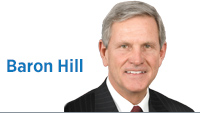 The election is less than 50 days away. And you can tell it. Television commercials, radio commercials, mail and yard signs are all evidence that an election is just around the corner.
None of it is free, of course. All the campaigns have to be paid for. So for the last several years, candidates for Congress and the General Assembly—as well as candidates for statewide and local offices—have been quietly holding their fundraisers to pay for what we are now seeing.
Voters tell us in polls that they don't like seeing all the commercials, especially the negative ones. They say the ads have no impact on how they vote. Really? Then why do candidates spend so much time raising the money to put the commercials on? Because they know they do have an impact.
In one of my campaigns for Congress, I did a focus-group survey. This is a process where you gather about 15 to 20 people together to discuss issues and to give people in the group a chance to voice their opinions about the candidate. In my focus group, just about everything they knew about me was from the television and radio commercials I ran. The ads really do have an impact.
Much has been written about the corrupting nature of fundraising. Voters believe candidates are beholden to those who give. There is an ounce of truth to this belief. Some candidates do cross the line. But in the years I ran for office, with thousands of contributors, only two people tried to buy my vote on an issue. Of course, I declined and did not accept their money. But two out of the thousands does not constitute a corrupting nature.
The real problem with raising money for campaigns is the time candidates have to spend doing it. Let me explain. When I ran for Congress over 12 years, I had to raise $1.5 million to $3 million per election cycle. Individual donations to congressional candidates were capped at $2,400 when I was running. In other words, one individual could not give more than $2,400. In fact, most of my contributors were in the $50 to $100 range. You can see, then, that to get to $3 million, I had to spend a lot of time calling donors and traveling to fundraisers.
Here is how I did it: When the election was over in November, I would take a break from fundraising for the Thanksgiving and Christmas holidays. Then in January, I was back to work in Washington, D.C. Fundraising would begin. Every work day, I would carve out two hours to spend time on the phone calling donors. On average, I would have a breakfast and dinner fundraiser two days a week. Then, when I would come home, I had a weekend fundraiser twice a month. If you think this was ridiculous, you are right.
According to polls, public financing of political campaigns is not something voters support. But faced with the reality of what candidates have to do to get elected, much more public awareness on this issue is needed. Maybe a different way of running for office can become a reality.•
Click here for more Forefront columns.
__________
Hill is a Democrat and former congressman from the 9th District in Southern Indiana. Send comments to ibjedit@ibj.com.
Please enable JavaScript to view this content.