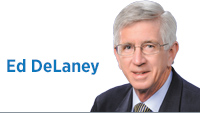 Our Constitution forbids the creation of a nobility, a class of people who bear titles and are deemed superior because of their ancestry. But the Constitution in no way prevents Americans from acting nobly, i.e. being a model, generous to others and decent. John McCain was truly noble.
McCain was not without inherited advantage. His father and grandfather were both admirals. He went to Annapolis. He got to be a jet pilot. He married a wealthy woman. But his success came from within. His friends came from both political parties. He was marked by a righteous anger. He refused to be released from the Hanoi Hilton, insisting that others go first. He never forgot his oath to his country.
There are those who live off their success and wealth, whether earned by themselves or bestowed by the accident of birth. They can behave badly but are somehow viewed as above commoners and entitled to act impulsively and selfishly. They believe theirs is a special story and that they can get away with things. They aren't bound by morality or rules.
Such people are more properly called ignoble, even though they might be revered by some. McCain never joined this group and never got to the White House.
I was lucky enough to spend a few hours in the company of McCain. I traveled to Russia with him on two occasions. Both times, McCain headed election monitoring of the Russian presidential elections by the International Republican Institute, which is funded by Congress.
I was one of the political minority members of the team, appointed by Bill Clinton, a Democrat. Twice, I had the chance to sit for a long breakfast with the senator, his wife and one or two others. The McCains were hoping to adopt a child on one of the trips. They were looking to share their lives with someone in need.
I recall one brief moment in our first meeting. The year must have been 1995 and I thanked the senator for ending the Vietnam War at last. He grinned and asked what year he had done that. I said in 1992 when he, a war hero, had chosen not to criticize Bill Clinton for avoiding service during the Vietnam war.
I had volunteered for the Navy during that war but had studied Russian while John McCain had been enslaved. McCain harbored no bitterness toward Clinton. Instead, he willingly traveled to Russia, which had facilitated his imprisonment by fellow Communists. He did so in hopes that Russia could have a better future.
For a quarter of a century before I met the senator, men of my generation had judged one another solely on whether we had served during the war or had avoided service. McCain had had enough of this division. He had the nobility to just let the anger pass. Hatred over youthful failings, or pride over youthful heroics, was not the point for him. So he served Bill Clinton's government and went to Russia in hopes of seeing democracy bloom.
The ignoble do not see McCain as a hero because he fell into captivity. They insult him for losing an election and ride on waves of bitterness. I prefer the real nobles and miss McCain.•
Click here for more Forefront columns.
__________
DeLaney, an Indianapolis attorney, is a Democrat representing the 86th District in the Indiana House of Representatives. Send comments to ibjedit@ibj.com.
Please enable JavaScript to view this content.