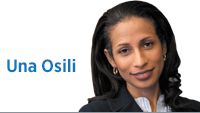 On a given day in America, 50,000 youths are incarcerated, of which nearly 70 percent are youths of color. My awareness of the impact of our state's criminal-justice burden on our youngest citizens led me to serve as a regular volunteer at a juvenile detention center.
As a volunteer, I have sought service that matches my core values and ideals. My experience has spanned a range of emotions—despair, heartbreak, but also a renewal of faith and optimism that one person can leave an indelible impact on the lives of others.
Despite growing needs, America's volunteering rates have fallen over time. Indiana ranks 25th out of 50 states in our volunteering rate based on data from the Corporation for National and Community Service. However, the state's ranking for millennials is lower—the very demographic that often appears disengaged from traditional modes of civic engagement.
Researchers laud the well-being and health benefits of volunteering for many individuals—particularly those who connect their values to their volunteer service. My colleague, Sara Konrath at the Lilly Family School of Philanthropy, has documented the relationship between volunteering and improved physical and mental health.
For businesses, volunteering can provide a pathway to employee engagement and talent retention. Volunteering strengthens employee bonds and offers exposure to community life. By forming face-to-face relationships, volunteers create decentralized networks of involvement.
Volunteering in the 21st century is a crucial component of inclusive civic engagement, in which all individuals have a role to play in advancing the public good. Through volunteering, citizens can build the communities they desire to live in—and create social and economic change.
But while the benefits of volunteering are recognized, a growing concern is that the people who could benefit most from serving are also those least likely to be involved. Only 25 percent of Hoosiers volunteered through an organization. Also, volunteering rates reveal troubling gaps by race and ethnicity—with lower rates of volunteering for African-American and Latino adults.
One encouraging trend in expanding volunteerism is employer support. Several Indiana companies have developed opportunities for their employees to be involved with community issues by matching employee charitable donations and their volunteer hours. Working directly with businesses to prioritize workplace giving, service campaigns hold much potential for not-for-profits.
Technology might also facilitate volunteerism by linking volunteers to causes. New platforms such as Volunteer Match make information more accessible, locally specific and able to address immediate concerns. A new website, Generosity for Life, led by the Lilly Family School of Philanthropy, can help create new social norms of volunteering for all Americans.
Today, there is a strong focus on scaling solutions to address needs—but it is also critical to emphasize that we need compassionate individuals who are committed to addressing Indiana's toughest challenges, including drug addiction, the re-entry of formerly incarcerated citizens, the well-being of senior citizens, and neighborhood improvement. Here, the involvement of educators and not-for-profits can help instill the importance of volunteerism and engage a diverse and inclusive volunteer base.
At the juvenile detention center, I am frequently asked by youth why I am so committed to serving. I have reflected on my answer for some time. I want to live in a community where we invest in our most vulnerable residents. To secure our future, we must also inspire the next generation of volunteers.
With urgency, we must pass on the message that one person can still make a difference.•
Click here for more Forefront columns.
__________
Osili is professor of economics and associate dean for research and international programs at Indiana University Lilly Family School of Philanthropy. Send comments to ibjedit@ibj.com.
Please enable JavaScript to view this content.