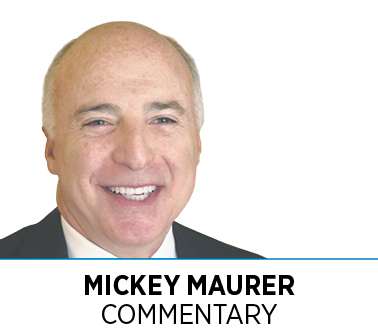 On Sept. 6, The New York Times published an anonymous op-ed by a senior official in the Trump administration. The mutinous team member called into question the president's judgment and leadership style, characterizing it as impetuous, adversarial, petty and ineffective. According to the op-ed, "the root of the problem is the president's amorality."
An infuriated President Trump went flailing about the White House like Captain Queeg looking for the officer who stole the ship's strawberries. The frantic investigation may spur a new movement, #notme, as one by one the vice president, secretary of state, attorney general and others have denied authorship.
The writer of the op-ed told Times editors that his job would be jeopardized by disclosing his name. He is a coward holding forth from a dark corner of his First Amendment rights and should resign, but his lack of courage is not my concern. Mr. Smith left Washington a long time ago. It is the deliberate attempt by The Times to dramatize the inadequacies and idiosyncrasies of President Trump and the assault on our democracy by the writer and his cronies that worry me.
The Times succumbed to the legal maxim that hard cases make bad law. In a hard case, a judge is tempted to stretch or even disregard a principle of law, often leading to a distortion of judgment. Good policy, like good law, is not based on exceptions. In this case, the anonymous nature of the op-ed provided cover for hostile behavior. The Times, although generally known for fair and balanced coverage, has adopted a critical slant on the current occupant of the White House. The Times' decision to publish the op-ed accomplished its short-term goal, but the precedent has struck a blow to the civil dialogue that we should strive to create and perpetuate.
The Times maintains that publishing the anonymous essay is the only way to deliver an important perspective to its readers. Perhaps Times editors failed to read Bob Woodward's book "Fear," which offers similar perspectives with attribution to his quoted material.
Even more worrisome is the content of the op-ed. The author identifies himself as one of many senior officials in the Trump administration who "are working diligently from within to frustrate parts of [Trump's] agenda and his worst inclinations." The author described the situation as a "two-track presidency." A better description may be a "palace coup," a dangerous affront to our democracy.
The author may believe the president is unfit for office and may believe that he has the best interest of our country at heart. Still, the writer's cabal has no right to wrest control from a duly elected president. One could make a case that many of Trump's actions are anti-democratic and on balance we are better served by this shadow government. I am not convinced.
We are a country of laws. The 25th Amendment to our Constitution prescribes the procedure to discharge a president who is unfit. I did not pull the Trump lever in 2016. My judgment was confirmed by Trump's punitive immigration policy and his foreign policy and its effect on relationships with our allies, but our democracy must prevail. Trump deserves the safeguards of due process afforded him by the Constitution before ceding control of the Oval Office. So do we.•
__________
Maurer is a shareholder in IBJ Corp. To comment on this column, send email to [email protected]
Please enable JavaScript to view this content.