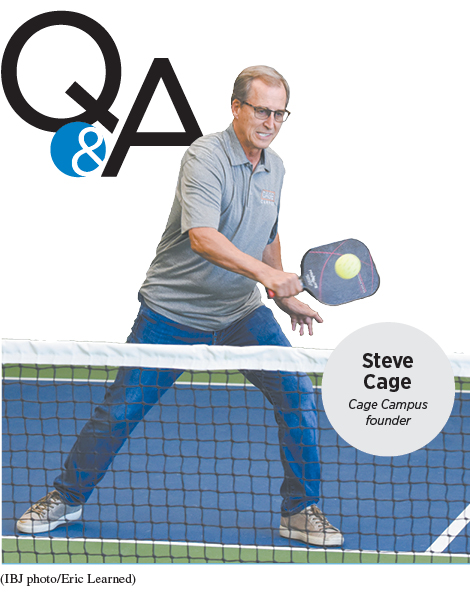 Fishers-based entrepreneur Steve Cage, 66, founded Product Action International in 1991 before selling the business in 2004.
But then the quality-control company shuttered its doors unexpectedly in 2009, putting hundreds of employees out of work. So Cage bought back the business and renamed it Stratosphere Quality.
Last summer, he sold the business again and has now moved on to a new venture called Cage Campus, a collection of Fishers properties Cage manages for entrepreneurs and businesses. He estimates about eight businesses could be housed in the campus—which includes four buildings plus one planned for construction—at once.
What exactly is Cage Campus?
Dynamic properties for entrepreneurs wanting an atmosphere that is a campus feel to feel relaxed and enjoy the space you're in. Not terribly complicated, but I just don't feel like it's done very well. If you want to succeed, we'll help you out.
What inspired you to start Cage Campus?
Kind of taking what I did in different industries, kind of taking that same philosophy in real estate and thinking what can be done differently here. … So we came up with a campus idea, something like a college campus where you have harmonious things going on. We wanted to be able to have a space people felt good about being in and [we] could lend them expertise on entrepreneurism and life in general about how business works.
What's special about the space?
We just want to have fun with people, versus: "Where's my check?" I just don't get that.
You have an indoor pickleball court. Why did you want to put that in here?
It strangely fit just perfectly. We bought the building to be in [it], but then I realized that fit like a dream. … You have nice camaraderie, people coming into the building. Of course, we have a nice setup with a lounge area. … It's a very fun space to be in, and we can have different people in to play pickleball. … Pickleball is kind of a tie to everyone because everybody needs to move, right? It's full. All ages. We've had the mayor out here.
What sets the campus apart from other co-working and startup spaces?
When you're ready to move from a co-working space, I think we offer a really nice opportunity in Fishers. Everybody wants to be in Fishers, and we're trying to provide a spot in high-end Fishers that you can come in and lease space and have a very efficient, effective place to land.
[What] we're looking for is the people who are just growing up and ready to move out, sort of a move out of the house sort of thing. We're going to grow it. If you grow big, we'll go with you someplace else and build you a spot. I think that's the key.•
 
Please enable JavaScript to view this content.