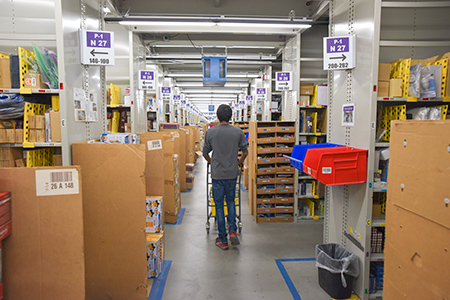 Thousands of Amazon workers in Indiana are in line for a pay hike, thanks to the Seattle company's announcement Tuesday that it will raise its minimum wage for all U.S. workers to $15 per hour starting next month.
Amazon ranks as the 16th-largest Indiana employer, with 8,500 full-time employees, according to IBJ research. And it might soon get a lot bigger. IBJ reported last month that Greenwood is a finalist for an $80 million Amazon distribution center that would employ 1,250 full-time workers.
The company operates seven fulfillment or sorting facilities in Indiana, plus a Prime Now hub. Amazon's advertised wages for local fulfillment center positions have been in the range of $12.50 to $13.50 per hour. The company told Greenwood officials that the facility there would pay an average of $14.65 an hour, including administration and management personnel.
Nationally, Amazon said the minimum wage increase will benefit more than 350,000 workers, which includes full-time, part-time, temporary and seasonal positions. It includes Whole Foods employees. Amazon's hourly operations and customer service employees, some of whom already make $15 per hour, will also see a wage increase.
Amazon has more than 575,000 employees globally.
Pay for workers at Amazon can vary by location. The median pay for an Amazon employee last year was $28,446, according to government filings, which includes full-time, part-time and temporary workers.
Amazon said its public policy team will start pushing for an increase in the federal minimum wage of $7.25 per hour.
"We intend to advocate for a minimum wage increase that will have a profound impact on the lives of tens of millions of people and families across this country," Jay Carney, senior vice president of Amazon global corporate affairs, said in a statement.
Please enable JavaScript to view this content.