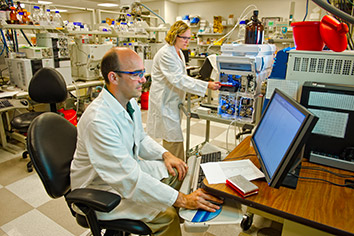 Eli Lilly and Co. said an experimental diabetes medicine helped cut patients' weight and blood-sugar levels in a study, spurring the Indianapolis-based drugmaker to consider its potential in related ailments such as obesity.
The drug showed an average reduction of as much as 12.7 percent in weight and up to 2.4 percent in blood sugar in the midstage research, Lilly said in a statement Thursday.
Shares of rival Novo Nordisk A/S fell as much as 7.2 percent in Copenhagen trading, the most since February, after the results were released. Lilly shares were up 3.4 percent, to $112.29 each, in late-morning trading.
The company now plans "very broad" late-stage studies in diabetes that will likely begin by early 2019 and look at different drug combinations, said Brad Woodward, senior medical director at Lilly's diabetes unit. Lilly is also evaluating whether to study the medicine—known as a dual GIP-GLP-1—in obesity, he said.
"That's the type of efficacy that certainly would prompt us to look other potential uses of this molecule," Woodward said in a phone interview.
Lilly is counting on new diabetes drugs to build on its blockbuster Trulicity and take on tough competition from Denmark's Novo, which is rolling out its next-generation medicine Ozempic and planning a tablet version of the product. Novo is also moving into obesity, which it sees as a significant and untapped market.
The drug Lilly is developing poses a big challenge for Novo, both in weight loss and diabetes, and would beat Ozempic if it achieves similar results in late-stage studies, Sam Fazeli, a Bloomberg Intelligence analyst, wrote in an email.
Analysts have predicted Ozempic will become a blockbuster dug, with sales exceeding $2 billion annually by 2022.
The latest Lilly data is being presented at the European Association for the Study of Diabetes meeting in Berlin. The advanced studies in diabetes are expected to be completed in late 2021, the company said. Safety is similar to the GLP-1 group of drugs, which includes Trulicity and Ozempic, and the most common side effects include diarrhea and vomiting at the start of treatment, Lilly said.
Please enable JavaScript to view this content.