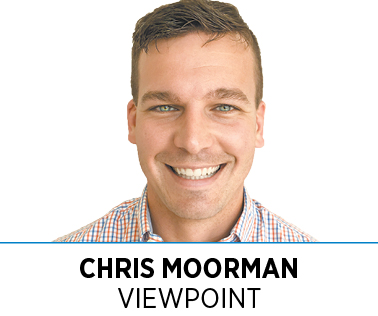 This month, Hoosiers will be reminded—by combines, grain wagons and stopped traffic on country roads—just how critically important Indiana's $32 billion agriculture industry is to our state's economy.
Beyond the economics, agriculture is an integral piece of our Hoosier identity. From our ancestors who cleared the ground more than 200 years ago when our state was in its infancy, to the ethanol used in IndyCars, to the popcorn we eat while watching Hoosier Hysteria, agricultural is the common thread.
Purdue University is a world-renowned agricultural research school, and innovative Hoosier companies such as Beck's and Elanco are on the vanguard of transitioning that cutting-edge research into production methods that raise farm and rural incomes across the state and the nation.
Unfortunately, today's Hoosier farm is beset by crippling issues. The first is a demographic time bomb. Today, there are 2.5 times as many farmers over the age of 75 as there are under the age of 35. Increasingly, the next generation looks for opportunities off the farm, further hollowing out rural economies across our state.
The second is a vicious cycle of low farm prices and high productivity. This season in Indiana looks like it will produce a bumper crop of both corn and beans. However, with an ongoing trade war and a glut of supply, prices paid haven't kept pace with the cost of inputs.
Today's farm economy is far too complex to "fix" with a silver bullet, but innovation on the farm has always been the key to prosperity. While innovation on traditional row crops has quadrupled yields in the last 59 years (the average age of our farmers), increased production is only as good as the sale price.
A new type of innovation is necessary.
The 2014 U.S. Farm Bill allowed industrial hemp to be grown, after a hiatus of more than 70 years. This versatile, legal, and non-psychoactive cash crop has shown remarkable promise in raising farm incomes. In 2017, Kentucky saw a direct economic benefit of nearly $50 million by allowing 209 growers to take part in profitable production research. From a "seed" program of 33 acres in 2014, the program has grown to more than 3,200 acres planted in 2017, with more to come this season.
Meanwhile, less than 18 total acres of hemp were planted in Indiana this season, even though our farmers were granted the same federal right to try as Kentucky's.
We stand on the brink of a green revolution, and our Midwestern neighbors are answering the call. This November, for example, it appears likely that voters in Michigan will legalize and deregulate all growing of industrial hemp.
Indiana should be a national leader in this burgeoning industry. From Canadian hulled hemp seeds on grocery shelves, to the numerous hemp products grown in China, Slovenia and Ukraine, consumers are voting with their wallets. But our state government has unnecessarily delayed Hoosier farmers' entry into this emerging market. It is critical to Indiana's farm economy that we offer farmers a profitable alterative to the crops of their fathers. Our state's rich agricultural heritage and resources make us uniquely poised to do so.
I urge the Indiana General Assembly to tackle this issue promptly in the next legislative session to enable Indiana farmers to plant hemp in significant acreage for the 2019 growing season. Failure to allow our farmers the right to grow and profit from this crop in the face of the worst downturn in farm incomes in more than 30 years is a squandered opportunity.•
__________
Moorman, a local agricultural entrepreneur, was granted one of the first five non-university research licenses to grow and selectively breed industrial hemp in Indiana.
Please enable JavaScript to view this content.