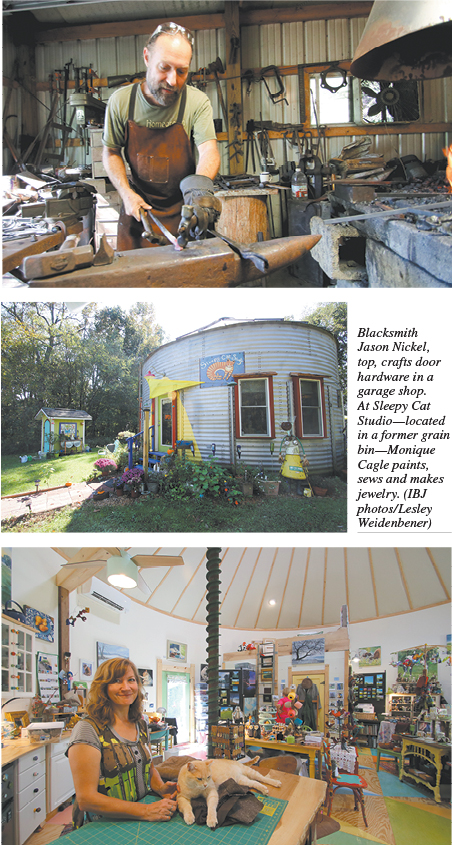 There's more than one way to see the fall colors when you go to Brown County. You can join the throngs headed for Nashville and its quaint shops or go to Brown County State Park to view sweeping vistas or hike the trails in Yellowwood State Forest.
But here's one more option worth a spin: the Back Woods Studio Tour, a self-guided swing through rural Brown County, showcasing the work and work spaces of more than 20 artists and craftsman.
Potters, painters, woodworkers, jewelers, carvers and more are on the tour, which runs through October as it celebrates its 20th anniversary.
For artists, the tour is an opportunity to not only show their art but also explain how it's made. Monique Cagle at the Sleepy Cat Studio is cutting fabric for an artsy stuffed owl when she stops to greet visitors.
The tour "is a great way to market my business and it's a unique way to connect with customers," Cagle says, as studio cat Ace curls up on the fabric she's left on the counter. "I think seeing how the work is made helps customers appreciate it more."
Cagle's studio and shop is in a renovated round grain bin, down a short gravel drive off Yellowwood Road. It reflects her quirky aesthetic, with turquoise jewelry, watercolor paintings and fabric crafts. "I swing back and forth," she says of the art. "I never get bored that way."
A drive through Yellowwood State Forest—with its canopy of trees and deep, rocky ridges—leads you to Brown County Iron and the Lightspinner Studio, neighbors along Helmsburg Road.
Blacksmith Jason Nickel—who forges door hardware, fireplace tools, door knockers and the like—is on the tour for the first time. He's hammering red-hot iron into curves as tour-goers walk through his tiny garage-turned-studio.
It's been a steady stream of visitors so far this month, and he's made a few sales, Nickel said. But selling bottle openers and door knockers isn't his goal. He makes a living by crafting custom iron pieces for area homes.
"This has been good for making connections," Nickel said. "As much as I'd like to get more into the retail side, the custom stuff is where I'm making most of my money."
Nickel is one of a few artists on the tour whose studio is open only on the weekends, although the traffic has been steady enough that he's thinking about opening up on weekdays, too. A map available online at blog.browncountystudiotour.com or at the Brown County Visitors Center lists the artists, their addresses and the hours they're open through Oct. 31.
On the other side of Nashville, along Clay Lick Road, is a chance to see the work of three artists at once. In a newly built wood-shingled showroom, mother and daughter Sarah and Sarabeth Noggle share retail space with shaker craftsman Pete Baxter. All three have studios on the property.
Sarah is a weaver, and she's selling rugs and kitchen towels, which last year sold like hotcakes, her daughter said. Sarabeth is a paper artist who specializes in woodblock printing and has started drawing again after a multi-year hiatus.
Knowing the tour is coming, Sarabeth Noggle says, helps her focus. "It was really fun last year and it got me making work," she said. "It's a good push. It's a deadline."
Sarabeth carves designs—mostly patterns but also landscapes—into wood or linoleum and uses an iron hand press to layer colors onto paper. She's inspired by Gustave Baumann, who is credited with bringing color woodcut printing into vogue in the United States and spent time in Brown County.
At last year's tour, Sarabeth Noggle was showing her work for the first time in years.
"Seeing people will buy things was enlightening," she said. "I sold a lot more than I expected."•

Please enable JavaScript to view this content.