Should the state superintendent's position be appointed or elected?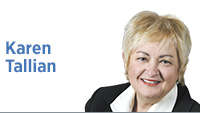 Americans and Hoosiers alike already feel like their opinions, votes and general day-to-day struggles have little to no effect on their government. They feel like politicians don't listen to them or simply don't care.
In the 2015 session, when the General Assembly voted to make the superintendent of public instruction a position appointed by the governor instead of elected by the public, the Republican supermajority proved them right. Hoosiers pay for our schools and should have a voice in who leads them. This action by the Republicans is undeniably offensive.
In 2012, Glenda Ritz was elected by the people with more votes than then-Gov. Mike Pence. Ritz held the position of superintendent of public instruction as the sole Democrat elected to a statewide office.
Because of butting opinions and policy disagreements, Republicans in the General Assembly and Mike Pence decided to ensure a Ritz-like reelection would not happen again, and put the selection of Indiana's superintendent in the hands of the governor starting in 2024. By making this elected position an appointed one, the supermajority ignored the voices of the more than 1.3 million Hoosiers who voted to put Glenda Ritz in that office.
Our government was founded on the principle that the people should have the ability to choose who will make the decisions that affect them. If we don't do our jobs effectively, we can be voted out of office. This foundation of our country is crumbling.
Last year, my caucus created one specific message for Indiana—"Your Voice. Your Vote. Our Mission."—to tell Hoosiers that, while they may be feeling less and less a part of the government, Senate Democrats still care about the issues that affect them. We will listen to their voices and understand that their votes put us in our positions.
This slogan was a direct reflection of the frustrations Hoosiers across the state were feeling. All legislators must start taking these frustrations seriously.
Every person in this country deserves to have their vote counted. But they may lose faith in the voting process if legislators use their power to simply reverse the voters' decisions. We must put trust back in our government and stop stealing the voices of Hoosiers. They should decide who represents them and for how long.•
Click here for more Forefront columns.
__________
Tallian, a Democrat representing Senate District 4, is from Portage. Send comments to ibjedit@ibj.com.
Please enable JavaScript to view this content.