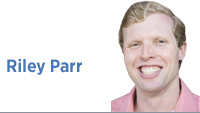 By the time this article is printed, we will in all likelihood know whether the Senate confirmed Judge Brett Kavanaugh as Justice Anthony Kennedy's replacement on the U.S. Supreme Court. But however this chapter in our nation's legal history concludes, there are no winners.
There are no real winners, because there is no more trust. There is no trust, because there is no interest in truth. Such must be eminently apparent to anybody who watched the hearing at which Christine Blasey Ford and Kavanaugh testified.
People might believe Ford, and others might believe Kavanaugh. (To nobody's surprise, those groups largely break down along ideological lines, which should be the first clue something is terribly wrong.) Others, and this is probably the camp I fall into, believe something traumatic probably happened to Ford at some point, but recognize the dearth of any corroborating evidence connecting Kavanaugh with Ford's allegations.
That is the biggest reason it is so hard to say that some other jurist should be the next Supreme Court justice. Because that seemingly validates the tactics of some Democrats during this ordeal. Because it means a potentially innocent, supremely accomplished man loses out on the post of a lifetime. Because it means this nation loses out on the value he would have added to the court. Because it highlights broader concerns about the mob mentality that James Madison and George Washington warned us against. Because oftentimes, the court of public opinion—bereft of any real opportunity for cross-examination, confrontation or meaningful chance to protect against reputational damage—can result in more harmful consequences than a court of law.
Channeling Winston Churchill, in today's world, a lie doesn't just get halfway around the world before the truth has a chance to put its shoes on; a misstatement, intentional or not, laps the truth.
But that distinction between how the rest of society operates and the processes and procedures that form the basis of our legal system suggests a different standard for those who have chosen to make a career in the law. Alexis de Tocqueville agreed; he thought jurists represented the best check on the "revolutionary spirit and unreflective passions of democracy."
Ultimately, that is why Judge Kavanaugh should not become Justice Kavanaugh; his fervent, and probably necessary, attempts to clear his name and the record veered too far into the political realm. Arguably, based on those comments, he would need to recuse himself when deciding on a number of critical issues. As an aside, the Democrats would have faulted Kavanaugh regardless of his approach and temperament in the hearing.
We should not, and cannot, expect judges to have no opinions on political matters. That is patently absurd. Like the rest of us, judges are humans. If we could peer inside the brain of, say, Justice Neil Gorsuch, we might well see him thinking the very things Kavanaugh said. Of course, we need not speculate much to ascertain Justice Ruth Bader Ginsburg's thoughts on President Trump. But what this distinction between judges and everybody else means is that those members of the Senate Judiciary Committee can do the very things of which Kavanaugh accused them; the ballot box, though, is our remedy.
What all this means politically is that the left might get exactly what it wants: Kennedy's seat filled after the election. In the process, Democrats have given Republicans the best possible motivation to turn out and vote. In the short term, the left might succeed in thwarting Kavanaugh's ascension to the Supreme Court. But to put a twist on a line from Chief Justice John Roberts, do not celebrate the truth; it had nothing to do with it.•
Click here for more Forefront columns.
__________
Parr is a student at the Indiana University Robert H. McKinney School of Law in Indianapolis and is treasurer of the Indiana Young Republicans. Send comments to ibjedit@ibj.com.
Please enable JavaScript to view this content.