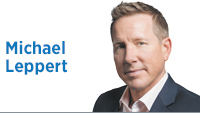 Jennifer Palmieri was the keynote speaker for an event at the Indiana Roof Ballroom on Sept. 28. The event was a big deal. The ballroom was filled with 600 people who were excited to be there. But who the hell is Jennifer Palmieri? It's a good question.
Imagine for a moment that the keynote speaker's name was "John," while I give the introduction.
The speaker served as the White House director of communications for the first half of President Barack Obama's second term. "He" served as the special assistant to the White House chief of staff and was the deputy press secretary during President Bill Clinton's first and second terms. Presidential campaigns are on the resume of our speaker, having played key communications roles in John Edwards' and Hillary Clinton's campaigns. "He" is the author of a book released in March of this year. Please welcome … .
A man introduced like this would just sound like any other part of our nation's political machine. But this is Jennifer Palmieri's intro.
And she is a player.
Her new book is titled "Dear Madam President: An Open Letter to the Women Who Will Run the World." The event was the inaugural kickoff luncheon for Hoosier Women Forward, a new training program designed to increase the number of Democratic women in elected and appointed positions and in positions of influence in the community and private sector.
In modern America, we shouldn't have a need to address the shortage of women in leadership roles. America should already be benefiting from women's natural intellect, conviction and decision-making skills.
But that is not our current reality. And our communities are suffering as a result.
Palmieri entertained the room by describing how things would be different today if women had founded our nation. Maybe we wouldn't even have elections. Maybe we would just get together and build consensus on who the best leaders were, ignoring whether they had succumbed to ego-driven desire for power.
"You should be president," might be responded to with, "No, you should be president."
She was funny.
Joking aside, I often imagine government with women leading it. I look at so many decisions today that seem to be founded in meanness and anger and wonder if these old white guys with the traditional qualifications that landed them there are up to the task anymore.
If women were in charge, would reproductive health freedom be a "social issue" or would it be an economic one? If women were in charge, would our nation have allowed for the migrant family separation crisis at our borders to have begun without a whisper of a way to recover from it? As heads of households, women regularly are in charge of the family budget. How could those skills change tax policies or budget priorities for the average American?
These are obvious areas where the presence of women would just make all of us better—and with no downside elsewhere.
Though society is made up of a statistically even number of women and men, our government is lopsided with men. Results show it. Our government does not accurately reflect the culture it represents.
The examples are too numerous to waste space pointing out here.
I'm glad I was at the event. As an older person, I usually resist speeding up time. Hoosier Women Forward, on the other hand, is an organization we all need now, and I want women to get forward faster. I want to see how they change, and then run, the world of our future. Hoosiers will be thankful when they do.•
Click here for more Forefront columns.
__________
Leppert is an author and governmental affairs consultant in Indianapolis. He writes at MichaelLeppert.com. Send comments to ibjedit@ibj.com.
Please enable JavaScript to view this content.