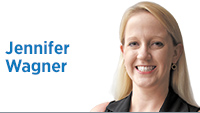 Tell me what you want, not what you don't want.
I wish I had a nickel for every time I've said that to my kids, often in a situation like this one:
Me: "Where do you want to go to dinner?"
Big Kid: "Ooh, I want to go to La Piedad!"
Little Kid: "I don't like La Piedad."
Me, in my head: "What's wrong with you? Everyone loves La Piedad, and you both started going there long before you were even able to gnaw on a tortilla chip."
Me, out loud: "Little Kid, it's fine that you don't want something, but I'd rather focus on what you do want. Where do you want to go to dinner?"
This process typically continues for a few rounds, in which one kid vetoes the other while being forced to enunciate what he or she actually wants. Eventually, they settle on something we can all live with. (Lest you think I am a permissive parent, rest assured this is not allowed to play out in perpetuity. Mom the Decider eventually will end a draw, but they know my preference is compromise.)
The genesis for this approach to parenting comes from my mom, who once explained to me that, when she was a lifeguard, she always hollered at kids to, "Walk!" instead of admonishing them not to run. It turns out that, "Don't run!" is more complicated to understand because the brain has to first process the negative—running—and then do the opposite.
I've been thinking about this a lot as we hurtle down the home stretch toward the midterm elections.
So much of politics these days—this cycle in particular—is focused on what we don't want.
Some voters are motivated to reject Donald Trump, who is not on the ballot this year. Others are still rejecting Hillary Clinton and Barack Obama, also not on the ballot this year. There's a palpable anger that I wrote about earlier this year that might, indeed, create a political wave but that might also further erode our ability to work together.
It's easier to know what we don't want.
If someone smacks me upside the head, for example, my most logical response is, "Hey, don't smack me upside the head."
Now, that could be a jumping-off point for ways I'd like to be treated other than being smacked upside the head. But if you keep smacking me upside the head, that's all I'll ever know, and my gut response will become my only response.
Welcome to politics today, where we're legitimately surprised when two people with opposing views don't smack each other upside the head for at least a few minutes. Absent more collaboration, head-smacking is all we'll come to know.
What's fascinating: The two men most recently elected to serve as presidents of the United States took a positive approach.
One said, "Yes, we can," with a healthy dose of hope and change.
The other told us to "make America great again."
Their messages connected with very different audiences, and they couldn't be more different as elected officials, but they both gave us ample opportunity to shoehorn our wants into a positive framework.
There's not much of that to be found this cycle, but there's still a little time before we head to the polls—especially as folks consider two clear options in the U.S. Senate race—to ask ourselves what values we want to see reflected in our leaders, not just what we're against. It might take a few rounds of discussion, but we'll all feel better about the outcome.•
Click here for more Forefront columns.
__________
Wagner is a lifelong Indianapolis resident and vice president of communications at EdChoice. Send comments to ibjedit@ibj.com.
Please enable JavaScript to view this content.