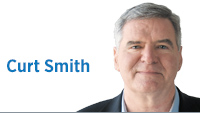 One issue sure to be before the Indiana General Assembly in 2019 is increasing the fees levied on cigarette smokers, who make up about 21 percent of Hoosier adults.
By my choosing the word "fee" instead of tax, you can probably tell my position. It is time to increase tobacco fees $2 per pack to pay for the increased health care costs baby boomers with a lifetime of tobacco use behind them will impose on the health care system in the coming decades.
Calling what some would label a tax a fee is fair in this case because of our convoluted health care finance system. We all get incomprehensible medical bills and "explanation of services" that we cannot decipher. No one, not even hospitals, can accurately report the actual cost of care, procedures and tests. With uncertain costs, it's easier to diffuse premiums and fees across the general population, given such intentional confusion.
Designating this a fee is also appropriate because it is a narrow, targeted assessment. A tax is a broad-based charge to fund government services and facilities. That's why I opposed the Indiana gasoline tax increase of 2017. There was no infrastructure plan, not even a plan to fill potholes, it turned out. But the Legislature approved a $1 billion tax increase, anyway. If you fund it, they will build it. That was a poor, poor effort at creating a state capital budget.
The tobacco fee is different. Although there is no guarantee the projected $350 million it generates will all end up covering health care expenditures, hopefully the Legislature will dedicate it to public health spending (education, prevention, health care for low-income residents, increased capacity for mental health and addiction services, and the like). Indiana's public health spending is 49th in the nation, despite a high smoking rate of 21 percent compared to 14 percent nationwide.
This fee also better aligns payments with those who receive services. We all want every Hoosier to be healthy and receive proper medical care. Our system—with all its imperfections—provides for that, including low-income and indigent care through HIP 2.0, Medicare and other health care delivery mechanisms.
But those who engage in high-risk behaviors—say smoking tobacco, heavy alcohol consumption or high-fat diets—need to experience financial consequences as one way of helping them make the tough behavioral changes at the core of improving physical health. Financial pain can often help us avoid or minimize physical pain and distress.
Personal responsibility is at the core of this increased fee. We know smokers will, alas, suffer more health complications and problems over time compared to non-smokers. It is only right that our health care finance system reflect this reality. This fee simply "cost-shifts" future funding for public health spending more fully toward those who need and will use the system at higher rates, because of tobacco use.
As this issue moves forward, it would be appropriate to see Rep. Tim Brown, R-Crawfordsville, a physician and chairman of the tax-writing Indiana House Ways and Means Committee, get the credit for advancing legislation.
Statehouse regulars and Indiana politicos know the good doctor suffered severe, life-threatening injuries recently due to a motorcycle accident in Michigan. What a fitting tribute if his colleagues approved this major push in public health care spending as he returns to the Statehouse in January to lead the budget-writing effort.
Brown has long championed this public-policy initiative, and his recent misfortune could be, in a small way, lessened if a bipartisan, bicameral group of legislators comes together to pass this fee. Let's call it the Dr. Brown bill.•
Click here for more Forefront columns.
__________
Smith is president of the Indiana Family Institute and author of "Deicide: Why Eliminating The Deity is Destroying America." Send comments toibjedit@ibj.com.